Monday's machinations in the Carmelo Anthony trade rumor mill. Posted by Ben Golliver.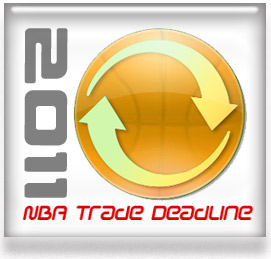 236 days after the first CBSSports.com Eye on Basketball post about a potential trade of Denver
Nuggets
forward Carmelo Anthony,a conclusion might be just around the corner, as multiple outlets are reporting a trade of Anthony to the New York
Knicks
is getting very close.
Ken Berger of CBSSports.com
reports the latest on Monday night
.
The Knicks and Nuggets closed in on a trade sending Carnelo Anthony to New York Monday night, with multiple league sources telling CBSSports.com that the trade was on the brink of happening.
The framework of the deal, which is expected to be completed Tuesday, would send Wilson Chandler, Danilo Gallinari, Raymond Felton, Timofey Mozgov and New York's 2014 first-round pick to Denver for Anthony, Chauncey Billups, Shelden Williams and Anthony Carter, sources said. The Timberwolves were fully on board with the deal, agreeing to take Eddy Curry's expiring contract along with Anthony Randolph from the Knicks. Corey Brewer would go from Minnesota to Denver.

The Nets, whose pursuit of Anthony was on the verge of ending Monday night, were not fully committed to taking two Knicks from Denver, according to one of the people briefed on the negotiations.
The
Denver Post reports
calls the trade "imminent."
Indications are that a trade is imminent with the New York Knicks, with only minor details to be worked out before an agreement is reached, a league source said. Multiple outlets, including Yahoo Sports, reported Monday night that the deal was near complete.
Yahoo! Sports
calls
the trade "close."
Melo is close to being dealt to Knicks, possibly tonight, a source tells Y! Sports.
On Monday night, the
New York Daily News
reported
that Mozgov, who had reportedly been a potential sticking point, would now be included in the deal, but added that the trade isn't complete.
Breaking: source tells Daily News a Knicks-Nuggets deal will include Timofey Mozgov. "It's not done yet," source adds
Yahoo! Sports posted
a similar report
on Monday night.
Multiple trade possibilities in motion with Knicks-Nuggets on cusp of 'Melo deal. "(Denver) is still haggling with NY," says league exec. Several league executives talking to New York and Denver believe Knicks have caved and included Mozgov into trade package for 'Melo.
Meanwhile, there is still alternative chatter out there too, as Yahoo! Sports also
reported on Monday
that an entirely different Anthony trade framework involving the Dallas
Mavericks
, Denver Nuggets and New Jersey Nets is out there.
Dallas, Denver and New Jersey have discussed three-way that would land Harris with Mavs and Felton and Mozgov with Nets, source says.
So, in other words, still not done. But inching closer than ever.