Posted by Royce Young
Here's something you really shouldn't care about, but I'm telling you anyway.
Via TMZ,
some guy named Michael Scrivner is actually the one who gave
Blake Griffin
the idea to jump over a car, even including the part about an oop through the sun roof.
Scrivner claims he was watching ESPN when Griffin asked for ideas, so he sent Griffin a Twitter response laying out his car dunk idea.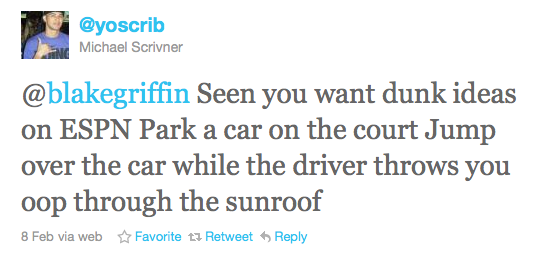 Seeing how the world works with people obsessed with getting credit and shoutouts, Scrivner is mad and wants Griffin to acknowledge his idea. He told TMZ, "He could have at least given me a shout out! ... If he already had the idea for the dunk, why go on SportsCenter asking for ideas? It would be one thing if I had said to just dunk over a car, but the dunk was spot on everything I suggested."
Hang on, give me five minutes. I need to run headfirst into this wall real quick.
If you check the guy's Twitter timeline out, it's definitely as he says.
He put that idea out to Griffin, no doubt.
And he hasn't shut up about getting "snubbed" since.
Following the dunk contest Saturday, Griffin was asked specifically about where he got the idea for the car dunk. He said, ""It was actually my idea to use the car. When they first came to me with the dunk contest idea, they said there was no rules. I was like, 'So I can jump over a car?' kind of playing around. He was like, 'Yeah.' And I was like, 'Oh, maybe I have to do it now.'"
Most of the contestants were discussing their inclusion to the dunk contest in early December, so obviously Griffin had the car idea well before Feb. 8. Maybe it was indeed the guy's idea to utilize the sunroof, but then again, who freaking cares whose idea it was? Like I said, you don't deserve any "props" for that. You don't need Griffin to stop and say, "Oh, and by the way, the idea to use the sunroof for an oop came from Michael Scrivner of Twitter. That would be at yoscrib. That's scrib, with a b on the end."
Another thing: It's the dunk contest. It's not a script that was nominated for an Oscar. I don't think there's plagiarizing in dunk contest ideas. Besides, you GAVE him the idea anyway! That was the whole point. I don't think there was ever any condition where Griffin was supposed to reciprocate with props if he used it.
And the fact TMZ headlined this calling it a "SCANDAL"? Oh my goodness. Somebody hand me a meat mallet. I need to hit myself in the face.
Sheesh. Why am I even writing about this? See, this is what happens when Carmelo finally goes and gets himself traded.