Grading the trade of Deron Williams to the New Jersey Nets for Devin Harris, Derrick Favors, and two first-round picks.
Posted by Matt Moore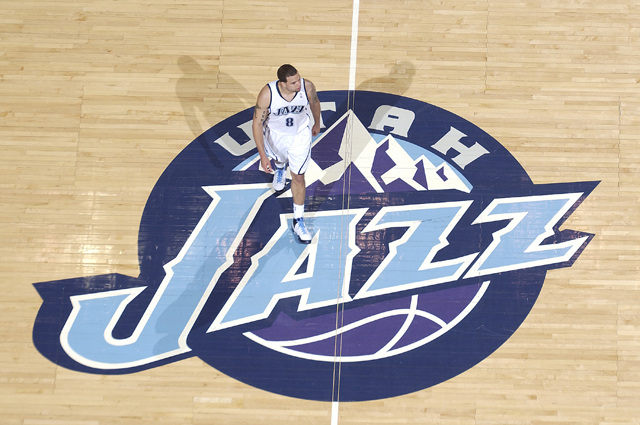 Deron Williams
has been traded
to the New Jersey Nets for Devin Harris, Derrick Favors, and two first-round picks, CBSSports.com's Ken Berger reports. The Nets are also trading bigman
Troy Murphy
's expiring contract to the
Warriors
in exchange for
Dan Gadzuric
and Brendan Wright. It's a stunning move that comes just days after the Nets failed to acquire
Carmelo Anthony
in last-minute talks at All-Star Weekend. Their efforts included a meeting with Mikhail Prokhorov that failed to convince the All-Star forward. But now, at long last, the Nets have their All-Star, the
Jazz
are rebuilding, and Deron Williams has the market he's obviously been longing for.
So how did everyone do in this deal?
Deron Williams
Well, Deron, it's not New York, but it will be.
Ken Berger of CBSSports.com reported
last weekend that Williams began telling associates last summer that he would look to join
Amar'e Stoudemire
in New York should Stoudemire sign with New York in free agency. Now it would appear that Williams gets his wish to play in the world's biggest market, he'll just have to wait a year when the Nets relocate to Brooklyn. He's playing with a point-guard friendly coach in Avery Johnson and he gets to work with his first true center in
Brook Lopez
. The only problem? It would appear Williams
is not happy with the trade
.
The frenzy is going to be phenomenally loud for Williams on his way out. Despite his denials, Williams was linked to a confrontation with Jerry Sloan that was followed immediately by his resignation. Williams is associated with running the 22-year-tenured head coach of the Jazz out of town, and is now bolting. We said that leaving in free agency would be a PR disaster for him afterwards, but this affords him the easy excuse of it being out of his hands. And at the end of the day, he still controls his destiny, able to sign or not sign an extension with New Jersey on July 9th.
Williams gets all the media frenzy that comes with this move, without the hoopla of "The Decision" or the drawn out pressure and exhaustive media scrutiny of Melo's ordeal. He gets the big market with a young core moving to take over Brooklyn as the second New York team, playing for a billionaire willing to spend to win. But he left a contending team for a rebuilding one, in a situation he's apparently not happy about. He may wind up pretty happy in the end, though.
Grade:
B-
New Jersey Nets
There's two ways to look at this, and either way, the Nets win.
The first is the conspiracy theory that's going to be massively popular for the next month, which is that Mikhail Prokhorov, owner of the Nets, purposefully raised the price tag on Carmelo Anthony, forcing the
Knicks
to constantly buckle to higher and higher pricetags, eventually giving up foru starters and a pick for the All-Star forward. Then he turned around and acquried a better, younger All-Star for less. In Soviet Russia, Nets trick you! It's a far-fetched idea that requires a whole lot of dangerous maneuvering and a pretty petty rivalrly. Then again, the Nets put up a billboard outside MSG this summer.
The more reasonable theory is simply that word got passed to Prokhorov during the weekend that Williams was looking to get out and the Jazz were looking to move him for whatever reason. The package they offered the
Nuggets
was gold. Absolute gold, and they had already come to terms with surrendering that much in exchange for an All-Star. So when word got around that the Jazz would be amiable to it, the calls were made and it happened the same way you hear from a neighbor that his friend is looking to sell his car. His brand new, rocket-fueled gold car that he doesn't know how to drive.
On the court, this isn't going to be perfect right away. Brook Lopez has struggled this season, and that's likely due to Avery Johnson, not Devin Harris. His rebounding is terrible, and his defense has regressed. But he's an effective scorer in the pick and roll, and he just got arguably the best pick and roll point guard in the league next to him. The Nets have shooters like
Sasha Vujacic
and
Anthony Morrow
. But they are very much still a work in progress. This isn't going to be seamless, and the Nets will have some growing pains. But this was still a huge upgrade for the Nets and a no-brainer. Because of a simple fact: Deron Williams is an All-Star.
"Get an All-Star." That's been the Nets' objective since this summer: obtain an All-Star, because they are what sells tickets and wins games. Now they have it. Harris was expendable, clashing with coach Avery Johnson. Derrick Favors is a high-upside rookie, but this team wasn't angling for the future. It wants to win now. It had the picks to throw in for this deal. This was a no brainer. They gave up a meager set of assets in the long run for an All-Star point guard to put them on the map. They're no longer a hard sell for free agents, they're no longer a joke to the media, they're a player in the market, with the ability to make themselves into a contender over the next two seasons. Just in time for Brooklyn.
Grade:
A+
Utah Jazz
We're going to need to bring in the trauma counselors for the Jazz fans. In two weeks, they've lost their franchise institution coach for 22 years, and their starting All-Star point guard. They're now left with Devin Harris and three big forwards. They've gone from a Western Conference title contender (in some circles), to a second-rate team that may struggle to make the postseason. And worst of all, they have no real star. But they do have a lot of potential. It's clear that this move signifies an admission from Jazz management that they were not going to be able to sign Williams to an extension, and rather than subject themselves to a year like the Nuggets have gone through or worse a year like Cleveland in 2012, they chose to simply get the most they could right now.
And they got a lot. Harris isn't Williams, by any stretch, but he's a fine point guard, and could thrive on a team with more talent like the Jazz. Favors is high-upside and a little redundant next to
Al Jefferson
and
Paul Millsap
, but that could also allow them to move one of the two of them before the deadline or in the summer. That kind of flexibility is important going forward, and the Jazz are no longer bound to try and compete for Williams. They can elect to rebuild or try and swing for the fences with what they have. The Jazz
were high on Favors in the draft
, hoping he'd fall to ten. Sometimes you get your guy, just later.
But in the end, this spells the end of an era for the Jazz. Or at least, the death rattle after Jerry Sloan's resignation spelled the mortal wound to said chapter. Things will never be the same again for the Jazz. They had a Hall of Fame coach, an All-Star point guard many considered the best in the league, and the ability to build around him to try and win a title. Now they find themselves among Cleveland, Toronto, and Denver, albeit with a better set of assets. Just another small market torn asunder by the new exodus of stars to their big-market counterparts.
Grade:
B
More Winners and Losers:
Winners:
Brook Lopez: As mentioned above, Lopez is a huge winner here. His numbers should go up with Williams next to him.
Avery Johnson: Johnson may have been under scrutiny after this season for underperforming but now with Williams his prospects raise considerably. Of course, if he doesn't get it done with Williams, that will pretty much be it for Johnson.
Brooklyn basketball fans: You had to be worried about what kind of team you were getting. Now you know. One with an All-Star point guard.
The Western Conference: They've now lost two All-Star competitors in two days.
Loser:
James Dolan: Let's see. You gave up four starters and a pick when you're a pick short for a gunning small forward who plays mediocre defense. Your rival gave up two picks they can afford to trade, a point guard they were looking to dump, and a rookie for one of the best point guards in the league. Oh, and you look like a moron for bringing in Isiah Thomas. Great week, Jimmy.
Tyrone Corbin: Good luck with that, chief.
Portland
Trail Blazers
: The Blazers were looking to get Harris for
Andre Miller
.
They're likely to stand pat now
.