Posted by Matt Moore
The
Salt Lake City Tribune
reports on
Deron Williams
' reaction
to being traded
to the New Jersey
Nets
: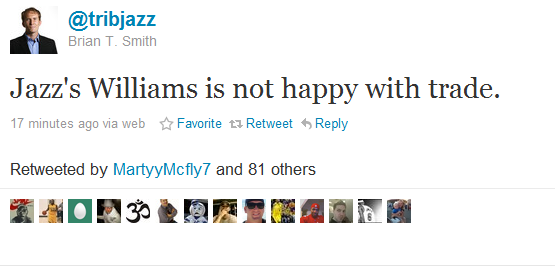 The
Trib
also reports that Williams was "dumbfounded" regarding trade and had no idea it was coming. CBSSports.com's Ken Berger reports the same, that Williams
is not happy with this trade
. If true, you have to wonder about two different issues.
1. Did the
Jazz
make this move too soon and if so, why? The Jazz must have been concerned about Williams leaving them high and dry like
LeBron James
did Cleveland and
Carmelo Anthony
threatened to do with Denver. There have been reports about increasing frustration from Williams this season over the team spinning its wheels in place and even regressing. This seems like a reactionary fallout move from Jerry Sloan's resignation, almost as if the Jazz were saying "We don't want the guy who drove Sloan out." Which is kind of insane, considering Jerry Sloan's age and the fact that Williams is an All-Star who don't exactly grow on trees, I don't care how many picks the Nets gave you. If Williams was amiable at all to staying in Utah, the Jazz should have done everything in their power to keep him. But that's fairly obvious, so you have to think at some point, the Jazz got the impression that Williams was not going to be in Utah in 2012-2013, and decided to cash in now.
2. If Williams didn't sign off on this trade, why did the Nets do it? The Nets just got through with the Carmelo Anthony negotiations, and were unwilling to take on Anthony without his extension. Williams is unable to sign such an extension until July 9th, but if he's unhappy with this trade, aren't the Nets in the exact same position as they would have been with Anthony in a "rental" situation? If Williams is unhappy in New Jersey and elects not to re-sign with the Nets, Prokhorov will have just traded
Devin Harris
,
Derrick Favors
, and two first-round draft picks for 1.3 years of Deron Williams, who could very well just take the subway over to MSG and sign with the
Knicks
. Sure, it's not the deal that included all those in this trade plus
Troy Murphy
and another pick the
Nuggets
were asking for, but it's still quite a bit. This is still a brilliant deal for the Nets, but now the pressure is on to make major strides in order to convince Williams he wants to commit to Brooklyn upon relocation. It's got a huge payoff, but this is certainly a massive gamble without clearing the trade with Williams first.