The Portland Trail Blazers made a last-minute play for Charlotte Bobcats All-Star forward Gerald Wallace. Posted by Ben Golliver.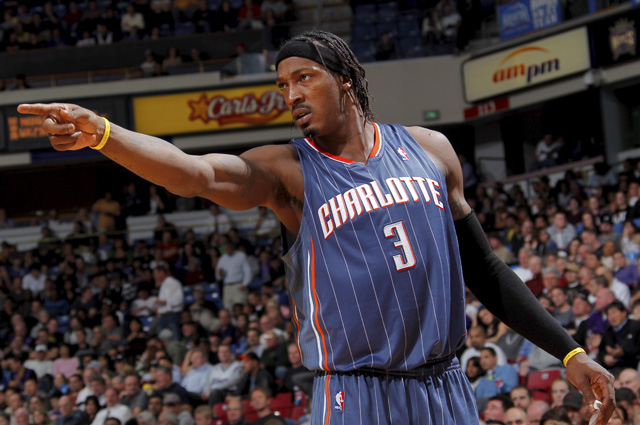 PORTLAND -- The 2011 NBA trade deadline was as wild as it gets, with seven late trades clogging up the league office, and an eighth - a potential deal that would have sent
O.J. Mayo
to the Indiana
Pacers
- that wasn't executed in time. As crazy as it was for fans and media to process shortly after the noon PST deadline, things were even more hectic for the executives in the minutes just before.
According to Portland Trail Blazers GM Rich Cho, his organization did not agree to trade for Charlotte Bobcats forward Gerald Wallace until just seven minutes before the deadline. "The trade did not get consummated in principle until 11:53 AM this morning," Cho said at a press conference Thursday afternoon in the Rose Garden. "All the variables in the trade, the terms and conditions, we didn't come to an agreement until the very end."
Wallace, an All-Star and NBA All-Defense player in 2010, was finally swapped for Blazers center
Joel Przybilla
, center
Sean Marks
, backup forward
Dante Cunningham
and two future first round picks. Cho said the last-minute exchange wasn't entirely expected. "This morning we thought would stand pat. We were sitting in my office, me and my staff, and thinking 'Well, it doesn't look like anything is going to happen.' All of a sudden we had about five deals we could have done."
The late scramble happened despite the fact the Blazers first broached a Wallace trade as far back as "a few months ago" and the fact that acquiring Wallace "was at the top of the list" of Cho's trade deadline priorities. "He exemplifies everything we are looking for in a player," Cho said. "He plays both ends of the floor, his work ethic is tremendous ... He has a lot of toughness, his nickname is 'Crash' for a reason. He just plays really hard."
As we all know, motivation to deal increases exponentially as the clock ticks. Cho compared his team's trade to the one made by the New Jersey
Nets
that nabbed Utah
Jazz
point guard Deron Williams, noting that the type of assets present in both deals made the late execution possible. "One thing I really believe in is accumulating assets, acquiring picks and young players. It's for this very reason: to acquire better players to improve the team. If you look at some of the deals that were made recently, like the Deron Williams trade that Utah made. One of the big reasons they were able to make that trade is because they had those two picks and that was really attractive to Utah. I really believe in accumulating assets and turning those assets into players to improve the team."
As the deadline neared, the thought of long-term salary cap relief and the hope that two draft picks represent was apparently too much for the Bobcats to pass up. A few more minutes of indecision, however, and Wallace would still be in Charlotte.
The Blazers brass was clearly happy the trade clock didn't run all the way out. "We're thrilled to death to have him," Cho said, cracking a slight smile.