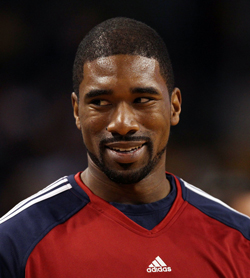 Posted by Royce Young
The
Cavaliers
waived forward
Leon Powe
Thursday (he'll likely clear waivers Monday), clearing room for new additions added in a series of trades at the deadline. As a result, the veteran is now available to the highest bidder and one team that's likely interested is the one where he made his biggest mark.
And a team that could certainly use his help.
The Boston
Celtics
will probably be at the top of Powe's list
according to NBA.com.
Doc Rivers was a huge fan of his during his time on the championship Celtic team and as a big body, he's someone the Celtics certainly could use after Thursday's events.
Boston is significantly smaller after trading Semih Erden, Luke Harangody and Kendrick Perkins Thursday. They have a roster spot available to make a move and while they did sign D-Leaguer
Chris Johnson
to a 10-day contract, that's likely temporary.
The issue with Powe is his health, as he's dealt with two major knee injuries over the past few years. But if he's healthy enough to provide some minutes of the bench, he will absolutely make an impact on this Celtics team heading into the postseason.
The concern is what his condition will be. He's played some this year, but tore his meniscus back in January and was out six weeks. The Celtics are also reportedly looking at
Troy Murphy
as well to bring in. So options are there.
"I'll be happy wherever I end up, but Boston is always holding a special place in my heart," Powe told
CSNNE.com
Thursday night. "The fans were so good to me, everybody up there was so nice, and it would be a great thing to return back to the Celtics if I could."
Other teams like the
Magic
and
Knicks
are also said to be interested and they'll likely be willing to pay the price to get him too. Both teams are in desperate need of help on the interior, so there might be a bit of bidding going on for the services of Powe.