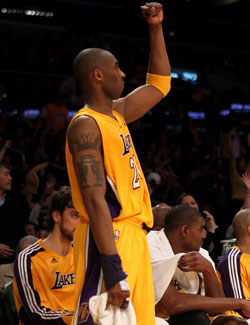 Kobe Bryant passes Elvin Hayes for seventh on the all-time scoring list.
Posted by Matt Moore
Kobe Bryant ticked another name off the list of heroes and greats he continues to knock off in his drive up the all-time scoring list in the
Lakers
' win over the
Thunder
. Sunday it was Elvin Hayes as Bryant passed him to take seventh on the NBA's all-time scoring list. Hayes played 18 years in the NBA with the Houston
Rockets
and the Washington Bullets. He averaged 20 points, 12 rebounds, and 2 blocks for his career, including a 23 points, 14 rebounds per game rookie season.
An interesting note? Bryant has averaged a 45.5 percent FG percentage for his career, Hayes a 45.2 percent FG percentage. Pretty close. Hayes won one NBA championship with the Bullets in '78, while Bryant obviously has five rings and is gunning, so to speak, for his sixth.
Bryant finished with 17 points on 8-22 shooting in an ugly game. But much like his career, what people will remember is the "game winner" that put the Lakers up three and the fact that they got the win. That's his biggest contribution in terms of legacy.
Bryant is currently chasing Moses Malone by 89 points on the all-time list. He should pass him within the next four games.