The New York Knicks are reportedly set to buy out wing Corey Brewer. Posted by Ben Golliver.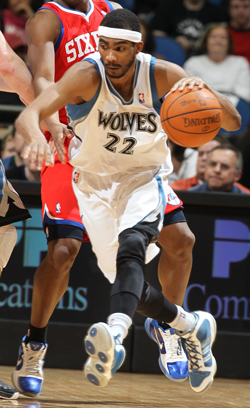 It feels like a year ago already, but
just last week
the New York Knicks completed a three-way blockbuster trade that brought Denver
Nuggets
All-Star forward
Carmelo Anthony
to the Big Apple. As part of the trade, the Knicks also received Minnesota
Timberwolves
Corey Brewer, who many thought would be a nice addition to the Knicks' bench during this year's playoff push before he became a restricted free agent this summer.
ESPN.com reports
on Monday that the Knicks will buy out Brewer in a move that may catch some people offguard.
Sources say we're about to have a surprising late addition to the buyout market: New York is buying out Corey Brewer. Sources say Celts, Spurs, Mavs and OKC have all registered immediate interest in Brewer, who holds obvious appeal to all as wing defender
HoopsWorld.com confirms the buyout
and reports: "Source close to Brewer says he wants to join a playoff team."
Brewer is averaging 8.6 points, 2.7 rebounds, 1.4 assists and 1.6 steals in 24.3 minutes per game this season. After the trade,
the New York Times questioned his fit in New York
, given his limited offensive game and the Knicks' other perimeter options.
While Brewer is no superstar and
reportedly has the lowest body mass index in the league
, he's a competent NBA player who would be a fine role guy on a championship contender. He's not a player you trade a pick for, but if you can get him for cheap after he clears waivers, it's a no-risk, minimal-reward return for teams looking to add some depth on the wings.