Cleveland Cavaliers forward Antawn Jamison has fractured his finger and will miss 5-7 weeks. Posted by Ben Golliver.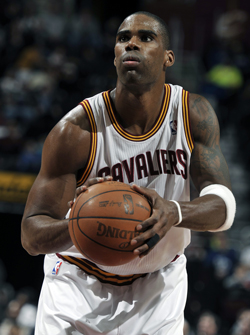 Just when things were starting to turn around for the league-worst Cleveland Cavaliers -- and, yes, winning three out of their last five games counts as a turnaround after you've set an all-time NBA record for consecutive losses -- the injury bug strikes again.
The Cavaliers informed the media on Monday that starting forward Antawn Jamison has fractured his left pinkie finger and will undergo surgery on Tuesday that is expected to keep him out of action for 5-7 weeks.
Cavaliers forward Antawn Jamison sustained a fracture of his left little finger during last night's game at The Q vs. Philadelphia. X-rays taken at The Q confirmed the fracture.
He was re-examined today at the Cleveland Clinic by Cavaliers Head Team Physician Dr. Richard Parker and Cleveland Clinic Innovations Chairman and Hand Surgeon, Dr. Thomas Graham. It was determined that surgery will be required to repair his fractured finger.
He is now scheduled to have that surgery tomorrow at the Marymount Surgery Center, which is located in the Cleveland Clinic Sports Health Center. The surgery will be performed by Dr. Graham with Dr. Parker assisting. Antawn is projected to miss 5-7 weeks.
The timing of the injury coupled with the anticipated recovery time means that it is possibly season-ending. The Cavaliers will play their final game of the regular season on April 13, just more than six weeks after Tuesday's surgery date. Given that the Cavaliers are currently in last place in the Central Division at 11-48 and are headed for a top three pick in the NBA Draft Lottery, there's no good reason, aside from Jamison's professional pride, for him to attempt a return this season.
The Cavaliers have also endured injuries to big man
Anderson Varejao
--
a blow that was season-ending
-- and point guard
Mo Williams
this season, who was traded to the Los Angeles Clippres prior to last week's trade deadline.
Jamison had
reportedly drawn interest prior to the trade deadline
, but the Cavaliers decided not to move him. He is averaging 18.0 points, 6.7 rebounds and 1.7 assists in 32.9 minutes per game this season.