The Denver Nuggets report that forward Danilo Gallinari has fractured his toe and will miss at least a week. Posted by Ben Golliver.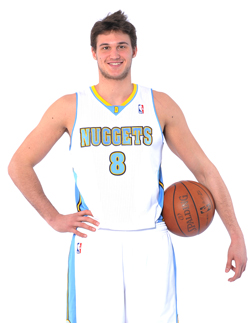 When the New York
Knicks
traded for Nuggets All-Star forward
Carmelo Anthony
,
one of the big questions we raised
was how forward Danilo Gallinari would adapt to live in Denver.
After a slow start in limited minutes in his debut for the Nuggets on Thursday, Gallinari exploded for 30 points against the Portland
Trail Blazers
on Friday, and nearly hit what would have been a game-winning three-pointer.
That positive momentum took a sidestep on Monday night, when the
Nuggets announced
that Gallinari had fractured his toe and will miss at least a week.
Nuggets F Danilo Gallinari has a fractured big toe & will be out 7-10 days.
The news came as an update to
a previous report
which said he suffered a "sprained toe" when stubbing his foot against the Blazers. The injury forced him to miss Monday's game against the Atlanta
Hawks
.
Even without Gallinari, the new-look Nuggets defeated the Hawks, 100-90, on Monday night.
On the season, Gallinari is averaging 15.9 points, 4.8 rebounds and 1.7 assists in 34.6 minutes per game.