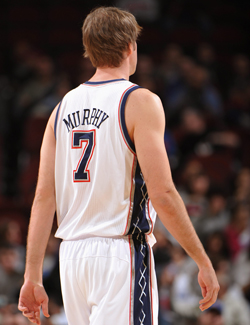 Posted by Royce Young
According to ESPN.com,
recently bought out
Troy Murphy
will sign with the Boston
Celtics
.
Muprhy was traded from New Jersey to Golden State at the trade deadline, but was bought out by the
Warriors
Monday. It came down to the
Heat
and Celtics, but Murphy eventually chose Boston.
Initially there were conflicting reports on where Murphy was headed as Yahoo! Sports reported he signed with the Heat, but Murphy himself confirmed his signing with the Celtics to ESPN.com.
Funny that a guy that's only played in 18 games this season and is averaged less than four points per game was as highly coveted as Murphy. But he is a big body at 6-11 and really it came down to more of a game of chicken between the Heat and Celtics than anything else. The other didn't want the other to get him.
The Celtics eventually won out and are hoping that Murphy can add a boost to their now thin interior unit. After trading away
Kendrick Perkins
,
Luke Harangody
and
Semih Erden
, the Celtics were weakened inside. They're hoping
Shaquille O'Neal
and
Jermaine O'Neal
will bounce back from injuries, but obviously they feel the need for help now.
Other than having an extremely Boston sounding name, Murphy gives the Celtics a nice inside-out threat from power forward. He's a good 3-point shooter (career 39.1 percent from deep) and is just a season removed from averaging a double-double. While he found himself in Avery Johnson's doghouse in New Jersey, he really is a nice player.
The Celtics are hoping he can add a nice little boost the same way
P.J. Brown
did in 2007-08 when Brown signed late in the season for the playoff push. Like Brown, Murphy is a heady veteran that rebounds well and can hit a jumpshot. Except Murphy's range extends out to the 3-point line.
Muprhy will help, no doubt, but the best part about this deal is that Miami doesn't get him. The Heat wanted him badly as they're desperately searching for an extra scoring big as
Juwan Howard
,
Jamaal Magloire
and
Erick Dampier
have proved a bit unreliable. But the Celtics won the Murphy sweepstakes and got a little bit better as a result.