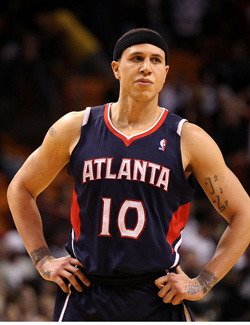 Carlos Arroyo did not attend practice on Tuesday and was later officially released by the Miami Heat.

Posted by Matt Moore and Ben Golliver.
Update 4:44 EST:
The Heat have officially announced Arroyo's release in a Tuesday afternoon statement.
The Miami HEAT announced today that they have requested waivers on guard Carlos Arroyo. "This was a very difficult decision to make because Carlos has done a great job for this team and this organization," said HEAT President Pat Riley. "He is truly a first class individual and professional. We wish him nothing but the best."
The Sun-Sentinel reports
that the San Antonio
Spurs
might be interested in signing Arroyo now that Miami has released him.
Update
1:55 p.m. EST:
The
South Beach Post
reports that it's a done deal
, Arroyo's gone from the team, and that Bibby will be signed when he clears waivers Wednesday,
as we've said before
.
Carlos Arroyo
missed practice
this morning, and as he is healthy, that's strange timing. With Pat Riley to make an announcement within the next hours, that pretty much guarantees that Mike Bibby is headed to South Beach.
Bibby is a considerable upgrade to Arroyo. Despite being older, he's a better distributor, a more well-balanced point guard, and a better shooter. He makes for a significant improvement and may prove to be the point guard the Heat have been searching for after relying first on Arroyo, and then inconsistent
Mario Chalmers
. His defense is an issue, but with both Wade and James to help on the perimeter, Bibby's lack of athleticism at this stage in his career will be mitigated somewhat.
Arroyo might be able to get another spot on a team headed for the playoffs. Most of the contenders are stocking up for depth so the end-of-the-bench players are expendable to get a veteran like Arroyo, as misguided as that logic may be. It's partially surprising the Heat elected to cut Arroyo and not
Jamaal Magloire
or
Dexter Pittman
, but it may be simply a matter of where the minutes need to be kept in case of injury.