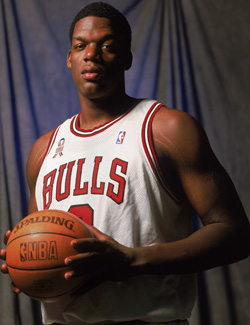 Eddy Curry's a free agent and he thinks he can help the Heat. No, this is not a joke.
Posted by Matt Moore
Well, it took over a half decade and nearly $50 million but the
Knicks
are free of Eddy Curry, and Curry has a chance to start over. Maybe. I mean, it's technically a chance. And he's feeling pretty good about it. After being traded from New York to Minnesota, the
Timberwolves
b
ought out Curry this week
and as a result, he's eligible to join another team, even one looking for an additional big man for the playoffs.
Yeah, you know where this is going.
Curry
reportedly is telling those close to him
that he expects to sign with the Miami Heat. I'm going to give you a minute to let that sink in.
Now, the Heat need someone like the Theoretical Curry. 7-feet tall, huge, and we mean
huge
frame, some mobility, and a veteran.
Erick Dampier
is doing okay, but they could use some depth in case he gets injured, and
Zydrunas Ilgauskas
gets injured, and
Joel Anthony
gets injured, all at the same time, in some sort of freakish dougnut accident. So theoretically, it's a fine move. Unfortunately, when put in practice it becomes absolutely bizarre beyond all reasonable comprehension. Curry was diagnosed with a heart condition, is constantly overweight, and... can't play. He just can't play. And there's not a whole lot of reason for the Heat to sign someone who can't play, when they already have
Jamaal Magloire
who shouldn't play, but can play.
If the Heat do end up signing Curry for the playoff run, the avalanche of jokes may break the internet.
But before we get too far down the mockery road here, there's something to keep in mind about Curry's experiences over the past several years. From Knicks blog, Knickerblogger:
On January 25, 2009, Eddy Curry's ex-girlfriend and baby daughter were found murdered in a Chicago apartment. Curry was granted a leave of absence from the team, disappeared for a couple of weeks, never really spoke publicly about what had happened. During what must have been the darkest moments of Eddy Curry's life, we never saw him suffer, never witnessed the pain that surely consumed him. Unsympathetic as we were throughout his struggles on the court, why should he have trusted us with a piece of him that was so much more important? What had we done to earn that?
via Goodbye-ee Part 2: Moz and Curry | KnickerBlogger.Net.
It's so far beyond reasonable odds that it's barely even worth mentioning, but if Curry were to achieve any level of comeback, how amazing would that be?