Corey Brewer will reportedly sign with the Dallas Mavericks. Posted by Ben Golliver.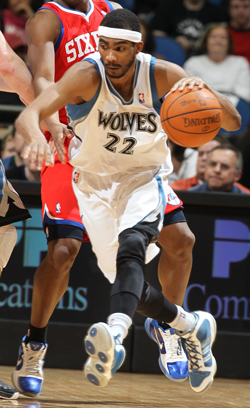 On Monday, we noted
that the New York
Knicks
were set to make a surprising decision by buying out and releasing forward Corey Brewer, who was acquired from the Minnesota
Timberwolves
in the
Carmelo Anthony
three-team trade
. Brewer, a serviceable do-the-little-things forward who works hard on defense, fits a mold for the type of player targeted by contenders looking to improve their depth.
On Wednesday, multiple reports surfaced that Brewer is set to sign with the Dallas Mavericks once he clears waivers, a team that has been looking to shore up their wings ever since
Caron Butler
went
down with a knee injury
.
ESPN.com reported
: "Mavs close to completing free-agent deal with Corey Brewer. Closing in on multi-year deal if Brewer clears waivers. Deal will start in $2 million range. Mavs capitalize on fact they could outspend
Spurs
and Celts, who made strong impressions on Brewer." Later,
ESPN reported the deal
at three years and "worth between $7 and $8 million."
Yahoo! Sports reported
: "Corey Brewer has agreed to sign a multiyear contract with the Dallas Mavericks, a league source told Yahoo! Sports. After securing a buyout from the New York Knicks, Brewer became one of the most desirable free agents for his athleticism and defensive versatility. Most of the NBA's contenders – including Boston, San Antonio and Dallas – pursued the 6-foot-9 forward over the past several days."
The Mavericks were quiet at the NBA trade deadline, choosing not to cash in Butler's expiring contract or trade promising guard
Roddy Beaubois
for a piece that could help bolster a title run in the short-term. The acquisition of Brewer, however, makes up for that silence by addressing the biggest hole in the Mavericks' rotation without requiring the major long-term financial outlay that would have been needed if the Mavericks were to have traded for a player like
Gerald Wallace
or
Stephen Jackson
.
Although it's likely been an emotional rollercoaster ride for Brewer over the last few weeks, once he gets settled in Texas he will realize he just went from the Western Conference's worst team in Minnesota to arguably its second best team in Dallas, as the Mavericks are currently 44-16 and poised for a deep playoff run.
In what has been an unpredictable trade season this is one move that makes sense for everyone involved.