Posted by Royce Young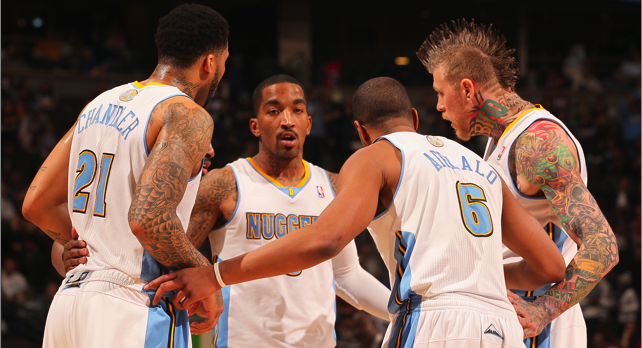 A week ago, two franchises completely turned themselves upside down. Two franchises sent their faces, their breadwinners, their ticket-sellers, their
superstars
, to another team.
Bold moves, both.
For one, it was absolutely necessary. For the other, it was a preemptive strike before it became absolutely necessary.
But a week later, the presence -- or lack thereof I suppose -- of
Carmelo Anthony
in Denver and
Deron Williams
in Utah is still felt. In different ways though.
The two teams face off Thursday night in a battle of the now superstar-less franchises, but also the game is quietly still important in terms of the Northwest Division. You may have assumed that both teams were going to just pack everything up after dealing their best players, but that assumption would be wrong. There are still games to be played, and more importantly, games to be won. Big ones, at that.
Take a look at the
Nuggets
. Seven days after trading Chauncey Billups and Melo, the two main players that have led the Nuggets to seven consecutive playoff appearances and even a Western Conference Finals berth in 2009, Denver has gone 4-1 with the lone loss coming in Portland in overtime.
Anthony and Billups helped spot the Nuggets with 32 wins prior to the All-Star break, but it's not like the new construction is just mailing the final two months in.
Danilo Gallinari
(though he's injured currently),
Raymond Felton
and
Wilson Chandler
have fit right in to George Karl's system and not only are the Nuggets playing differently, you could argue they're actually playing
better.
Instead of the primary isolations, the Nuggets play team basketball to the greatest extent. They move the ball, cut, penetrate and shoot. They play together. Which is astounding seeing as half the team is still probably trying to figure out how to pronounce each other's names.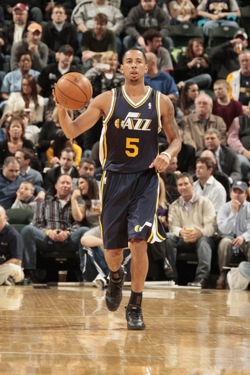 The Nuggets may have actually found something when they dealt Anthony. The team has always embraced George Karl's up-and-down style, but has never been accused of playing much defense. But with the Melodrama finally over, it almost looks like a massive weight has been lifted off the entire city's shoulders.
Karl is smiling a whole lot more, the players seem much more together and some of the new guys are really fitting well into the new system. Wednesday, the Nuggets pounded Charlotte by 40! So I think it's safe to say these guys have banded together.
I almost get the feeling that Karl and the Nuggets are sailing without a sail. They're rudderless. They're just kind of throwing it all out and there with really no idea what's supposed to happen. One night, they're a defensively focused. The next, they try and outscore you. They have no idea what that are, and that's what makes them so fun. One thing they do know: Carmelo Anthony is not part of it, and I almost think that excites them. And the fanbase.
Of course, things catch up a lot of times and in a league where stars win, the Nuggets are currently without one. Nene is a nice player, Chandler is an above average scorer and Gallinari is the definition of a tough cover. But past this season, no one knows what their construction will be. There are a lot of questions to be answered but with the way the group has come out of the gates, the case could be made that a quality core is there.
On the other hand, the
Jazz
are sliding. But that was happening well before Williams was dealt to New Jersey though. The team is just 1-3 since the deal and can't seem to figure out how to stop anyone. In the four games, Utah is giving up an average of 107.2 points per game and that included the win in which it held Indiana to just 84 points.
Denver made a deal to try and stay competitive while also opening the door to rebuild. Utah, sort of cashed all its chips in. Which is really odd considering the Nuggets were really the only team here having their hand forced.
The Jazz got some first-round picks,
Derrick Favors
and
Devin Harris
back for Williams, which isn't enough to keep them in the playoff hunt this season. They've slipped from division contender to now 10th in the West and 1.5 games out of eighth. And with the
Grizzlies
winning, that gap should widen in the coming weeks.
But it's a necessary pain for the Jazz, or at least in general manager Kevin O'Conner's mind. It was better to do this now than suffer the way the Nuggets have. At least that was the thinking. Granted, it's early and the Nuggets are just a five-game losing streak from potentially joining the Jazz near the bottom of the division, but ironic that Masai Ujiri's apparent bumbling, indecisive way of handling the Melo situation actually has his team in better shape than the preemptive strike launched by the Jazz.
Utah forfeited two final months with Williams that almost certainly would've resulted in a playoff berth and at least half a season for the 2011-12 campaign. Instead of milking every possible win it could out of Williams in the way Denver did with Melo, the Jazz folded on the first hand. The Nuggets made their play on the river, and it's turned out to look pretty good. So far, of course.
In the madness that was the 2011 trade deadline though, two teams made the most noise in terms of exporting. Denver and Utah told their stars to pack and both got quality deals in return. But right now, it looks like one squad may have re-discovered itself, while the other might just be slipping farther down the rabbit hole.
So Thursday night when the two teams lock up in Salt Lake, you'll be looking at two franchises certainly in flux, but headed in opposing directions. But what's surprising is which team is headed up, and which is headed down.