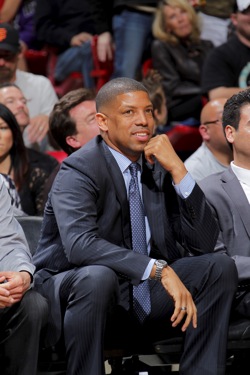 Posted by Royce Young
Not good news for the
Kings
future in Sacramento.
Despite efforts by fans and a good grassroots movements
to try and do what's necessary to keep the Kings from relocating, one of the franchises biggest proponents of keeping them in Sacramento sounded defeated at a press conference Thursday.
Former NBA player Kevin Johnson and current mayor of Sacramento said of the Kings' future, "[It's] more likely they're going to be in Anaheim."
Not good news for Sacramento.
Johnson reportedly met with the Maloofs Wednesday, but the co-owners aren't keeping Johnson in the loop much. So with Johnson getting that sense despite being held out of a lot of information means that Johnson almost seems to be throwing in the towel.
The Kings organization this week was granted an extension by the NBA to request permission to be relocated before next season, a strong indication that a move from Sacramento is under serious consideration. The Kings have been trying for years to get a new arena in Sacramento, stressing that a more modern facility is necessary for the team to maintain a viable business.
The Kings have been in Sacramento for 26 years, but the failure to secure financing for a new, modern arena to replace the aged Arco Arena (now Power Balance Pavilion, but come on) has pushed the Maloofs toward relocation.
The Kings have struggled in Sacramento making money as the team has also struggled to win on the court, but the main issue actually comes down to the Maloof brothers' actual finances as they've lost some money over the past few years due to the slowed economy.
"[The Maloofs are] going down a route to look at their options and we have to respect that," Johnson said. "I don't think at this particular moment there is a whole lot we can do."
Basically at the press conference though, Johnson said that Anaheim would need to fall on its face for the Kings to not relocate there. While Anaheim does have an arena waiting, it's not brand new. And on top of that, there really hasn't been a large swell of support by the people of Anaheim to bring the team there either.
Johnson said the doesn't think Sacramento can "influence" the Maloof brothers' decision to move and even added that the situation is "ominous and concerning." Again, not good signs for the future of the Kings in Sacramento.
But here's the thing: If you don't build it, they aren't staying. That was the lesson with the Sonics in Seattle and it's another tough love lesson for the Kings in Sacramento. It might not be fair, but these owners don't keep franchises for fun anymore. It's not OK for them to lose money like it used to be. It's no longer just a hobby. They don't want to see a franchise constantly in the red so they're going to do what it takes to make money, even if it means moving.
Rough for Sacramento, but reality.