Posted by Royce Young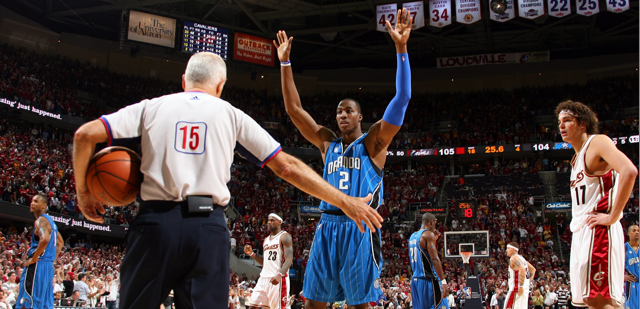 Against the
Bulls
Friday night,
Dwight Howard
was hit with his 16th technical foul of the season. He got it for raising his elbows after a hard foul and it's most likely it won't be rescinded.
With that being the case, Howard is facing a one-game suspension for his number of technicals and then every two techs he gets from now on, will result in a suspension.
Howard's temperament has become a kind of odd kryptonite for him as he presents himself as the jolly, fun-loving big guy off the court but on it, seems to grow more frustrated with officials than Bobby Knight at a little league game. A lot of it is because officials don't seem to know how to officiate a guy like Howard. They had the same problem with Shaq. He's bigger and stronger than everyone, so he naturally is physical. So defenders get physical back. It's a really fine line they have to find.
As a result though, Howard loses his cool. A lot.
But this comes after a month in which Howard nearly averaged 27 points and 15 rebounds a game on close to 70 percent shooting. It comes after he's carried a discombobulated roster back into the contender talk in the East. It comes after Howard has really established himself as the leader in the clubhouse for the league's Most Valuable Player award.
The question some are asking now is, can Dwight Howard really be the league's MVP with the scarlet letter of a suspension on his resume?
Yes, he can. End of column. What's next?
(Oh, that's not how this works? Let me explain then.)
This isn't the Heisman Trophy. This isn't baseball's Hall of Fame. (And not that either sacred, but they do like to use some character clause in there for fun.) This is an award recognizing the best/most valuable NBA player for the season.
I mean, let's face it. Charles Barkley won an MVP.
Allen Iverson
won an MVP. Oscar Robertson won an MVP. Not exactly angels on the hardwood there.
The NBA intentionally leaves its criteria for MVP blank to open the door to more discussion about it and a wider range of responses. There is no checlist for character, points scored, team record or game-winning shots. The award has always been about who the best player was during a given season. Again, that's open for interpretation and it's up for each voter to decide how he places value on the word "valuable."
But one thing it doesn't have anything to do with is technical fouls.
I see the other side of the debate (if there even is one -- I'm just kind of assuming there will be). How can you be an MVP when you consistently cost your team points by giving up extra free throws and then on top of it, get suspended? I'll grant you, it's not very MVP-like to get a suspension and miss a game for your team. We kind of picture our MVPs as classic titans of basketball, the perfect player of the year. A suspension is a blemish on that flawless resume and something that puts a sour taste in a voter's mouth.
I get that. Doesn't mean it should actually count though.
One writer last season -- an Orlando one, ironically -- said he wouldn't vote for
LeBron James
for MVP because he sat out a couple of his team's final games. That was a stupid reason to cast your vote elsewhere. Just like basing it off of Howard's temper tantrums is too.
No doubt it's something Howard needs to get under control. If you're an MVP, you only miss games because you absolutely can't go. You don't take yourself out of them like he has because you called the ref a bad word.
Still though, that has bearing on only one game of 82. It could be an important one in the end, but most players don't play all 82. Most sit one or two nursing a strained hamstring or sore knee. It's stupid, yes, that Howard will miss one because he couldn't exercise some self-control, but that's all it is. Stupid.
We want our players to play with emotion. We want them to play with fire. Channeling that into your game and not outwardly at the officials is the key, but sometimes the streams cross. Howard is an easy target for technicals because he gets fouled a lot, gets fouled
hard
a lot and sees a lot of them go uncalled. Then on the other end
Dwyane Wade
jumps into his chest and Howard gets hit with a foul. I'd complain too.
We can sit here and think we'd be bigger people on the court and turn the other cheek every time. But basketball is a game of emotion. It's a game of reaction. And sometimes, it all bleeds together and Howard blows his top. I don't condone it, but I understand it.
This award always has been about what impact you make on your team. Whether you think it's more about stats, team record or highlight plays, that's your prerogative. But right now, nobody is making a bigger impact than Howard. In all three of those areas too. I guess you could say that currently, he would get my pretend vote for MVP. And a couple silly technical fouls isn't going to change that.
Losing a game because you lost your temper is silly and it hurts your team. That's clear. That's obvious. But since when does one game trump 81 others?