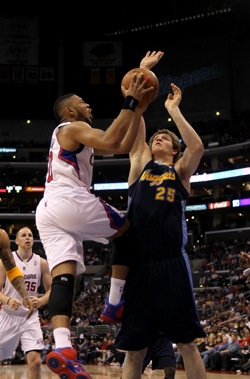 Posted by Royce Young
Before guard
Eric Gordon
went down with a wrist injury, the
Clippers
were playing pretty good. Not great, but they were beating teams at home and statying competitive against everyone.
Without Gordon though who injured the wrist on Jan. 22, the Clips went just 4-14.
Blake Griffin
has been sizzle for the Clippers, but Gordon is what makes them good. Well, not "good" but at least competitive. He leads the team averaging 23.7 points per game.
He returned last week (with a mohawk!) after missing a month but against Denver Saturday, he reinjured the wrist after a hard foul from
Timofey Mozgov
. Gordon came down hard on the wrist and immediately went to the locker room and did not return.
It may just be a minor setback with Gordon missing only a game or two, but coach Vinny Del Negro seemed convinced Gordon would miss at least some time.
"He'll stay back here. He's got a bone fracture, a bone chip,"
Del Negro told the LA Times.
"Don't ask me the correct [terminology]. The words are too long for me to pronounce. Ask Jasen Powell, ask the medical staff. But he will be out. How long, I don't know. But it's just real frustrating. I feel bad for Eric, but other guys are gonna have to step up."
Without Gordon, it's back to
Randy Foye
in the starting five who is a capable scorer, but certainly not up to Gordon's level.