The New York Knicks were laughing at reports that members of the Miami Heat were crying after a loss to the Chicago Bulls. Posted by Ben Golliver.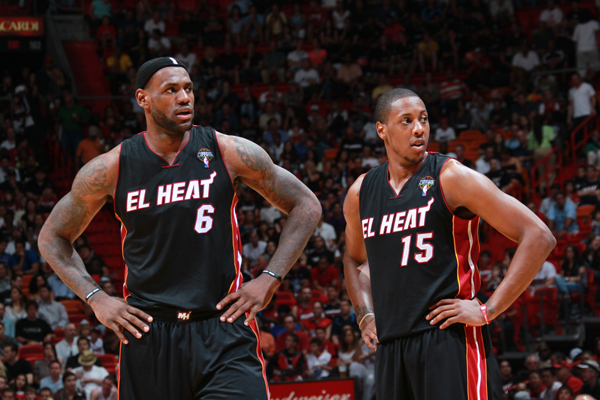 Making fun of the Miami Heat: it's not just for NBA bloggers any more.
On Sunday night, we noted
that Heat coach Erik Spoelstra admitted to the Miami media that members of his team were crying following the team's loss to the Chicago Bulls, which featured another late-game meltdown. (Deadspin has
a video compilation
of all of Miami's crunch time choke jobs if you're interested.)
ESPNNY.com reports
that the news travelled fast, as New York Knicks stars
Carmelo Anthony
and
Amar'e Stoudemire
were joking about the tears after their Sunday night win over the Atlanta
Hawks
.
When the locker room first opened to reporters after the game, Stoudemire and Anthony were bantering and laughing about players on the Miami Heat crying after their loss earlier Sunday to the Chicago Bulls, with Stoudemire fingering Chris Bosh as the watery-eyed one (although Bosh, when asked by reporters in Miami whether he had cried, said he almost had but did not).
"I heard Chris Bosh was crying tears," Stoudemire said.

"Tears?" Anthony asked.

"Yeah, tears," Stoudemire replied.

"Wait 'til I call him, man," Anthony said. "I'll be like: 'What are you doing?'"
As this report and others noted, Bosh was the one prominent member of the Heat to specifically deny that he cried, so it's interesting that New York's heckling turned to him so specifically. Often seen as the weakest link in Miami's "Big Three" and the subject of questions about his toughness and ability to play through injury down the stretch of last season, Bosh can never seem to catch a break, can he?
It goes without saying that we shouldn't have expected a textured, thoughtful league-wide response to Spoelstra's admission. NBA players seize upon on any weakness or perceived weakness like vultures, with blank macho hardness as the agreed-upon default emotional setting for just about any situation. In this environment, whining is looked down upon and crying is an almost inconceivable anathema, especially in early March when the season isn't on the line.
While I encourage the Heat to let it all out after what's been a frustrating stretch of games, Anthony's question - "What are you doing?" - isn't without merit. Where are the tears coming from? This isn't as simple as a team taking its play seriously and its losses to heart. Miami's key players have lost hundreds of games and have likely lost dozens of games decided in the final minutes. Sunday night wasn't some inconceivably difficult moment of pain or grief and it wasn't a milestone or goalpost as Miami's season continues on Tuesday night. Why this reaction at this point in the season?
The most obvious explanation is that reality has set in, that a hard ceiling has finally been fashioned above a team that entered the season with limitless expectations for their success. Miami is a veteran team from top to bottom and they understand as well as anyone, even if they won't admit as much directly in interviews, that their substandard play against quality teams and poor late-game execution will make for a short run in the playoffs this season. That fact amounts to an identity crisis for a team that had been thought of as an immediate dynasty.
During recent games we've seen Miami's stars made to look average; after recent games we've seen those same stars despondent. Now this. Losing a game rarely amounts to tears, but feeling like you've lost your way is a different matter. Frustration is manageable, but hopelessness is a totally different beast.
Hat tip: Zach Lowe, SI.com .