Boston Celtics center Shaquille O'Neal is out indefinitely with a foot injury. Posted by Ben Golliver.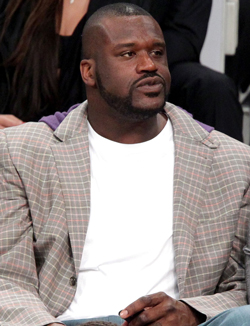 Update
:
The Boston Globe reports
on Monday that O'Neal will miss at least a week.
Boston Celtics center Shaquille O'Neal, plagued by various nagging injuries, has played in just 36 games this season and hasn't made an appearance since February 1.
CSNNE.com reports
that O'Neals absence will continue indefinitely due to "right foot soreness."
The Celtics have no idea when the 7-foot-1 center, who turned 39 years old Sunday, will return to action. When asked about O'Neal and a likely return date, coach Doc Rivers acknowledged he had no idea. "[O'Neal] worked out with us the other day," Rivers said. "Some of the pain returned."
Rivers spoke with Ed Lacerte, the team's head trainer. "Eddie just said don't expect him anytime soon," Rivers said.
The Celtics haven't missed a beat in O'Neal's absence, or anyone else's for that matter. Boston has seen virtually every member of its rotation miss time due to injury this season - and they recently traded starting center
Kendrick Perkins
- but it hasn't impacted their ability to roll through the regular season.
Without O'Neal, the Celtics have played more small ball as they work to integrate center
Nenad Krstic
(
acquired for Perkins
) and free agent big man
Troy Murphy
, who was
signed
to bolster their frontcourt depth. As of Monday, the Celtics sat atop the Eastern Conference with a sparkling 46-15 record.
O'Neals numbers have taken a big hit this year - he's averaging 9.3 points and 4.9 rebounds in 20.7 minutes - and the end is fast approaching. At this point of the season and at this juncture of the 39 year old O'Neal's career, it's naive to maintain hope that he will be in tip top shape come playoff time. With that said, his raw size and ability to give fouls against guys like
Dwight Howard
,
Joakim Noah
and
Andrew Bynum
would be a huge asset for Rivers. But Boston's roster is as asset-rich as any in the league, even with a sidelined Shaq.