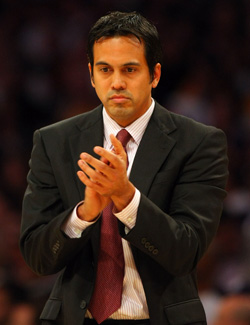 Posted by Royce Young
So evidently the Miami
Heat
cried yesterday. It made big news. We're all talking about it today.
This morning, Erik Spoelstra met with the media following the Heat's practice and did what any damage control expert would tell him to do: Blame it on the media.
"I think you guys (the media) can probably take anything I say and turn it into a story," Spoelstra said. "I was shocked when [PR man Tim Donovan] told me about it this morning that it's actually making the news. I think you guys can be a little more creative than that. I will say one thing, the guys care. Nobody was whimpering in the locker room."
"It's a classic case of sensationalism [by the media]," Spoelstra continued. He then said he didn't regret it and even tried to joke it away by dubbing it "crygate." (I must admit, that's pretty clever.)
While saying it, Spoelstra had the look of a man that knew he has royally screwed the pooch but was trying to just laugh it off as no big deal. Couldn't believe it was actually making the news? And you didn't know until this morning? Yeeeeeeeeeeeeah right.
Spoelstra kind of backtracked when asked if players were actually crying. He kind of said no, just saying heads were down and there was lots of noise.
It was an obvious plan of attack from the Heat as Spoelstra waited until he was asked about it and then played dumb, pulling the blame the media routine. It's one of the easiest ways to deflect criticism.
It's not my fault. You guys are the ones making a big deal of it.
I prefer people to stand up and tell it how it is. I think the general public (and media) respect that more than pointing fingers. It wouldn't have been hard for Spoelstra to say, "Yeah, a couple guys were upset. They cared about the game. We're not going to apologize for caring."
LeBron had his coach's back on the matter.
"Spo is the captain... we stand behind anything he says."
I do think this is an example of us -- fans, media, general onlookers -- of kind of getting excited about a simple statement. So the Heat may or may not have cried a bit in the locker room. Just like most anything Heat related, it's turned into big news. We'll all move on here soon enough when they choke a crunch time play this week.