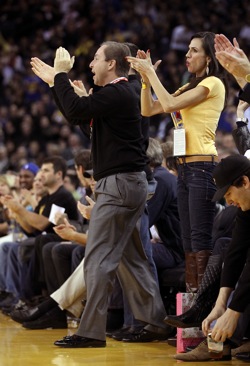 Posted by Royce Young
This isn't exactly new news, as
Warriors
owner Joe Lacob had talked previously about potentially trading
Stephen Curry
or
Monta Ellis
if the right deal presented itself.
But in an interview with the San Jose Mercury News,
Lacob again reiterated that point.
"We did consider it," Lacob said. "And poked around. Listened to some offers and in fact in some cases made some offers. Though not final offers, but poking around. We decided that we were not going to get value in return. Those players were just too good for what we were going to get in return. We feel much more comfortable keeping them part of our core positions going forward."
Lacob also said that the Warriors could have acquired Gerald Wallace from Charlotte, but passed on it because the team didn't see it as a good fit.
"We could've gotten Wallace -- he's not somebody we thought would make us better. I really believe that," Lacob said. "He just doesn't fit for us. He's good defensive player, rebounder, certain things that do fit, certain things that don't. I could argue, don't know whether Portland got better or worse."
I like Joe Lacob. He's invested in his team, cares about results and wants to do better for a great fanbase. But is it just me or does he run his mouth a lot? I thought Curry kind of said
he wasn't psyched about Lacob dropping his name out there
in trade talks?
And Lacob even apologized for it,
saying that Curry and Ellis would be Warriors "for a very long time."
So I don't really know what to believe with Lacob. I kind of get the feeling that he just likes talking. He likes talking to people about his franchise and what they could do. It's like a fan on sports talk radio, except he's the owner of the team and actually gets to make decisions so people value his comments.
Lacob has been extremely vocal as the owner of the team, deciding to take a very front seat approach. It's different than previous owner Chris Cohan who seemed to hang in the shadows and make curious decisions without explanation.
But Lacob might want to think about some of his statements about personell, because players don't like being talked about simply as property. I thought Lacob had figured that out already.