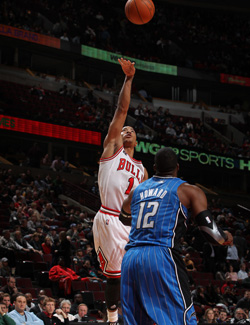 Is the MVP race a two-man game, and if so, what's holding each candidate back?
Posted by Matt Moore
Matt Moore:
I don't think anyone can look at the numbers on closing games by the
Heat
and keep James in it. I hate to place so much emphasis on one part of the game, but along with the struggles, and the fact they have so much help, I think it's hard to keep him in it when you use that as the last element. So we're looking at Rose vs. Howard. Which is at once surprising and not shocking at all. I don't think anyone saw Rose making this kind of a jump this soon, or Howard to really have his presence felt more than he had in earlier seasons.
Part of me, though, still wonders about Dirk. The only real dip for the
Mavericks
was when Dirk was out. In all the rest of the games, they've been mammoths trampling the world. Are we counting out Dirk too soon?
Ben Golliver:
We shouldn't count out
Dirk Nowitzki
. Especially if we're saying James is disqualified because of the late-game struggles (and we are), Dirk should be in the discussion for that very same reason.
I still like
Dwight Howard
's candidacy for a number of reasons. He wins the "did more with less" argument over the other major players -- yes, even
Derrick Rose
-- and he gets bonus points for helping Orlando weather a big-time midseason shakeup trade that could have sent the
Magic
's season in a number of directions. Orlando is 24-13 since the trade went official, nearly an identical winning percentage to what they managed prior to the trade. There's a fair argument to be made that this is not Orlando's best year at title contention, but that argument is about everything except Howard. He's averaging a career-high in points (23.1), near his career-high in rebounds (13.9), he's shooting 60% from the field and he's doing it without any other real low post threats.
His team wins, he's put up numbers and he's persevered. Those are solid check marks in the three biggest boxes to me. Rose is just a half-whisker behind him to me.
Moore:
Does the fact that he's averaging more points while shooting more, but also shooting worse from the field than last year and worse from the stripe than in years prior matter at all? His TR% is the worst since 07. Block percentage worst since 08. ORating and DRating just as good as in year's prior. I think that's why I don't buy Dwight. He's not playing better than he has in prior seasons, and in prior seasons he wasn't good enough. So why now? Maybe that was just our mistake in prior seasons, though.
Nowitzki's basically not going to win because he's not a sexy candidate, we can all just admit that, right? Because his production is through the roof.
Golliver:
I think the efficiency argument against Dwight has some merit but is fairly easily explained by the context of the season. Efficiency and usage aren't going to be linear when you reach the heights he's at, and he's not taking more shots by accident this year. The knock against the Magic was always that he didn't get enough touches, right? I think it's in their best interest to keep feeding the big fella, and his field goal percentage is barely down anyway. One of the big "what ifs" in the NBA is how ridiculously forceful (not to mention efficient) a presence Howard would be if he was even an average free throw shooter. But getting to the line has indirect value (he's at a career-high clip there) even if he isn't cashing in nearly as often as he should be. Of course, we can pick nits with regard to his offensive game all we want, but of the top 5 regularly discussed candidates Howard is surely the most dominant defensive presence and by far the best rebounder.
As for Dirk, I think it's a combination of sexiness and the ever-present fatigue factor. It was interesting to hear
Kevin Durant
allude to the fact that he isn't an MVP candidate this year because he's not the new, hot name. I think there's some merit to that. A player's "story" plays a huge role here and Dirk's story boils down to: "Guess what? I'm still really, really freaking good." Maybe he should be playing up the fact that he bounced back from that disastrous relationship he had with his alleged (but not really) baby mother? Sympathy goes a long way in the media. We love a comeback, even if it's manufactured.
Moore:
It's not that Howard hasn't been insanely good, it's whether he's been the best. After all we're throwing out the player who may very well be the best pound for pound on the planet in
LeBron James
. But then, Rose's numbers in terms of efficiency haven't been great either. In terms of impact when you watch, it's pretty easy to come to a tie between Howard and Rose. The most interesting aspect may be the teammates-factor. Most will agree that Rose has better teammates than Howard, but we're talking
Carlos Boozer
and
Luol Deng
. But then with Howard we're talking
Jameer Nelson
and
Jason Richardson
.
The argument that Howard's defense goes further than Rose's offense. Rose has improved on defense, but doesn't have the same impact as Howard on offense.