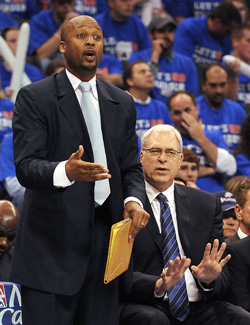 Phil Jackson discusses the future of the Lakers' head coaching situation.
Posted by Matt Moore
One way or another, next season will be one of considerable change for the Los Angeles Lakers. Phil Jackson is retiring, win or lose, and the organization will have to sort through the drastically different world under the next CBA for exactly where they want to go with their franchise and who will lead it. On Tuesday, Jackson spoke to reporters about the process of selecting a new head coach for the Lakers and what his role will be in that. For starters, he makes it clear that it's the gents upstairs that will have to make that decision once and for all:
Jackson said he expected to be consulted by the Lakers' front office for his opinion on who the next coach should be when the opportunity presents itself, but said the decision will ultimately be general manager Mitch Kupchak's and owner Dr. Jerry Buss' to make.

"I'm sure we're going to talk about it at some level, but that's got to be a fit," Jackson said. "It has to be someone that Mitch is comfortable with; it has to be something that Dr. Buss sees as the program ahead."
via
Phil Jackson: GM, owner will pick next Los Angeles Lakers coach - ESPN Los Angeles
.
It's surprising that Brian Shaw, who was a candidate for the
Cavaliers
job this summer (talk about dodging a bullet) isn't the assumed heir to the chair, as it were, with Kurt Rambis in Minnesota. Shaw has long thought to be the guy going forward, but it does go to show how things could dramtically change for the Lakers in a new CBA. If their ability to keep all their high-priced-but-discounted-for-L.A.
stars is impacted, or if the core proves to be unable to sustain their success in the playoffs at their age, it's possible, though unlikely, that the Lakers could opt for a full-scale blow-up in preparation for the summer of 2012.
The most likely scenario, however, is a 12th coaching title for Jackson, who walks away on top, and the Lakers pushing forward under Brian Shaw, who has the respect of the veterans on the team and who would continue the use of Jackson's triangle. It may not be a seamless transition, but it's as close as they're going to get. You can bet that Jackson will have a signficant influence on the decision, however, not only as the former coach but as the partner of Buss' daughter. Jackson's fingerprints will be on the Lakers for years to come, which is in no way a bad thing.