Los Angeles Lakers coach Phil Jackson chimes in on the Miami Heat crying after a loss. Posted by Ben Golliver.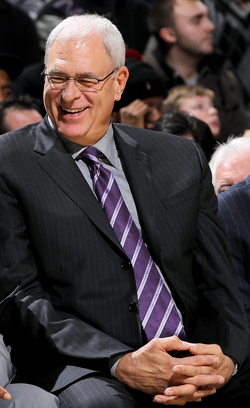 There's nothing quite like an emotionally honest admission to bring everyone in the NBA out of the woodwork.
On Sunday, Miami Heat coach Erik Spoelstra
admitted to the media that members
of his team cried following a loss to the Chicago
Bulls
. The reaction was instant and enormous: the New York
Knicks
laughed about it
, Spoelstra
tried to backtrack
and Los Angeles Lakers star
Kobe Bryant
made it clear
that he hasn't cried but said that the Heat crying wasn't of any real importance.
As for Lakers coach Phil Jackson? There would be no high road.
ESPNLA.com reports
that Jackson thinks tears don't have a public place in the NBA.
"This is the NBA: No Boys Allowed," Jackson said. "Big boys don't cry. But, if you're going to do it, do it in the toilet where no one can see."
This came seconds after Jackson tried to deflect the reporter's question by saying, "People cry in locker rooms, yes, [but] I don't want to talk about Miami's situation."
Gee, tell us what you really think.
Unlike some of his takes on hot button issues, Jackson's comment here don't need much between-the-lines analysis to be understood: the upstart Heat don't meet his masculine standard and they fell short of his understanding of how emotional situations should be handled in-house.
Jackson has never been one to think twice about kicking someone when he's down and here - even though he hesitated - he seems to have aimed below the belt. As we now by now, he simply can't help himself.
The question: what are the Heat going to do about it? Probably nothing, but we'll find out on Thursday when the Lakers travel to Miami for a nationally-televised grudge match.