Los Angeles Lakers guard Kobe Bryant has passed Moses Malone on the NBA's all-time scoring list. Posted by Ben Golliver.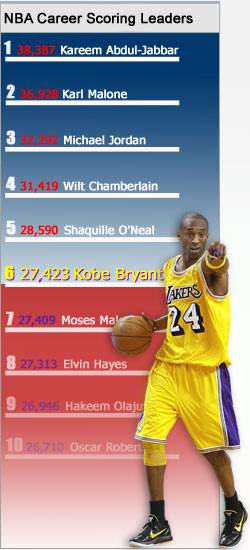 Los Angeles Lakers guard Kobe Bryant continued his ascent up the NBA's all-time scoring list during Tuesday night's game against the Atlanta
Hawks
, moving past Hall of Fame center Moses Malone into sixth place.
Bryant entered the game 12 points behind Malone and notched his 11th, 12th and 13th points at the free throw line, after being fouled while shooting a three-pointer with 2:04 remaining in the second quarter.
Malone scored 27,409 points in 1,329 games during his career. Bryant reached that mark in his 1,086th game, 243 games faster than Malone.
Bryant began the 2010-2011 NBA season in 12th place on the all-time list. This year he has passed (in order): John Havlicek (26,395), Dominique Wilkins (26,668), Oscar Robertson (26,710), Hakeem Olajuwon (26,946) and Elvin Hayes (27,313).
The only active player in front of Bryant is Boston
Celtics
center
Shaquille O'Neal
, Bryant's former teammate in Los Angeles. O'Neal is currently in fifth place on the list, roughly 1,100 points ahead of Bryant. Given the distance between those two players, it's a virtual certainty that Bryant will conclude this season in sixth place. The next closest active player? Celtics forward
Kevin Garnett
, who is 22nd all-time.
The top four scorers in NBA history are Kareem Abdul-Jabbar (38,387), Karl Malone (36,928), Michael Jordan (32,292) and Wilt Chamberlain (31,419).
Back in January
, we took a look at Bryant's career scoring trajectory and how it's likely that he will finish his career no lower than third all-time.
The Lakers defeated the Hawks, 101-87, in Atlanta. Bryant finished with 26 points.