Chicago Bulls forward Carlos Boozer sprained his left ankle during the fourth quarter of a game against the Charlotte Bobcats. Posted by Ben Golliver.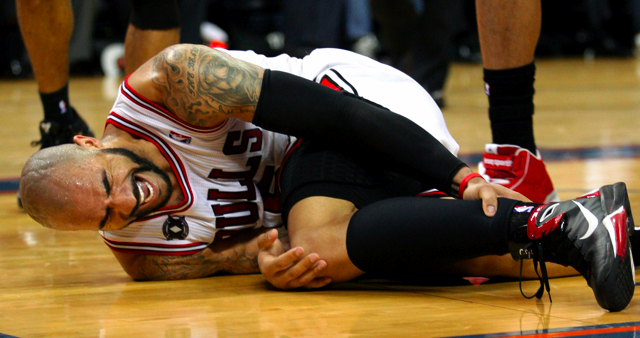 Update (Thursday)
: Chicago Bulls coach Tom Thibodeau says Boozer will miss "between a few days and a week" and is listed as day-to-day,
according to the Daily Herald
.
When you're
Kwame Brown
, sometimes you've just got to let the frustration out. That's what happened during the fourth quarter of Wednesday night's game between the Charlotte Bobcats and Chicago Bulls, as Brown flagrantly fouled Bulls forward Carlos Boozer with the Bobcats trailing big.
Boozer suffered a left ankle sprain on the play and departed to the team's locker room without shooting his free throws.
The Associated Press reported
that Boozer's "left leg bent awkwardly as he hit the floor."
After the game,
the Chicago Tribune reported
that Boozer underwent X-rays on his ankle, which came back negative. The paper also noted that Boozer will be "re-evaluated on Thursday" and that he was not immediately available to the media after the game. The Bulls next play on Friday against the Atlanta
Hawks
in Chicago's United Center. Boozer's status for that game is not yet known.
It's been a tough season injury-wise for Boozer.
Back in January
, Boozer sprained the same left ankle, an injury which caused him to miss some time and forced him to wear a protective boot. Before the regular season started, he
fractured his right hand
, an injury which caused him to miss October and November.
Boozer finished the game with 10 points, seven rebounds, one assist and one block in 26 minutes. The Bulls defeated the Bobcats in Charlotte, 101-84. The win improved Chicago's record to 45-18 and dropped Charlotte to 26-38 on the season.