The NBA is considering a formal policy on how the league handles concussions. Posted by Ben Golliver.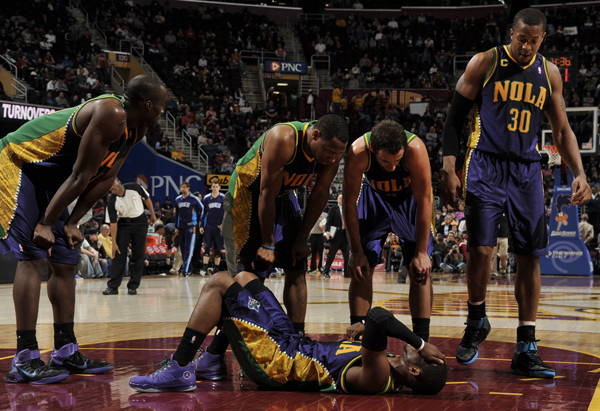 No one could forget the
scary scene in Cleveland on Sunday night
, when New Orleans point guard
Chris Paul
had to be carted off on a stretcher of the court and taken to the hospital after suffering a concussion.
The scariest thing about that scene? It happens more often than we realize.
The Associated Press reports
that six NBA players in the last month have missed time due to concussions and that, as a result, the NBA has confirmed it is considering instituting a mandated policy for how teams should handle players in that situation prior to the beginning of the 2011-2012 season.
The NBA is consulting with an independent neurologist and may establish a league-wide policy for handling concussions by next season, The Associated Press has learned. NBA spokesman Tim Frank confirmed the discussions Tuesday.
"The NBA Team Physicians Society has been studying the issue of concussion management for several years and each team follows its own treatment and return-to-play protocols," he said. "In addition, the league is working with a consulting neurologist concerning the possible adoption of a league-wide protocol."
The NBA and the players' union say they are tracking the number of head hits. Frank declined to name the neurologist involved with the league, but said they've been working on the issue extensively this season.
The NBA makes some pretty poor decisions, such as selling out its dunk contest to a manufacturer of cheap automobiles. But this is not only an excellent idea, it's really past due.
The biggest issue with concussions is that players often aren't sure exactly what happened, and their first instinct is to chalk it up to their bell getting rung and to try to continue playing. Coaches, similarly, are more likely to defer to a player's judgment if he feels he can or can't go. NBA trainers are almost always on the spot immediately when a player hits the ground, but league protocal often allows players to shake the cobwebs out and remain in the game. Are there concussed players slipping through the cracks? It sure seems like a fairly easy thing to happen, even with the protections that are currently in place.
Concussions are not the most common occurrence during an NBA season, especially compared to full-contact sports, but they're certainly common enough for a formal policy. This is a classic "nothing to lose, everything to gain" situation and the league deserves applause for acting on the issue.