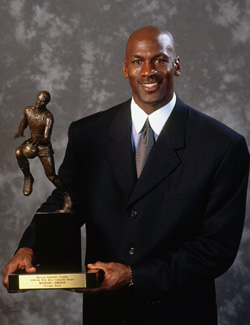 Michael Jordan endorses Derrick Rose as the Most Valuable Player.
Posted by Matt Moore
Think of it like an election campaign, and a former office holder providing his endorsement for a candidate. Except in this scenario, it's the best mayor/governor/president/high priest/grand overlord/emperor to ever take office. It's a lot like that.
Michael Jordan, as quoted by the
Chicago Tribune
:
"MVP of the season," the Bobcats owner said Wednesday night after the Bulls downed his team 101-84. "He deserves it. He's playing that well, without a doubt."

Then Jordan offered that sly smile.

"And if he doesn't get it, now he will see how I felt a lot of those years," the Bulls' Hall of Famer said.
via
Michael Jordan: Chicago Bulls legend Michael Jordan says Derrick Rose no doubt the MVP of NBA this season - chicagotribune.com
.
This is classic Jordan. Jordan made an empire out of giving everyone what they wanted, regardless of what he actually thought. Saying the Chicago Bull prolific scorer is the MVP? That's perfect in every way. Just makes everyone love him more, especially Bulls fans (not that that's humanly possible). Jordan probably legitimately does feel Rose is the MVP, considering his disdain for
LeBron James
' joining the
Heat
and the fact that Rose is a scoring guard (although much more of a passer than Jordan). It's just such an easy thing for him to say that people will love.
You also won't find any of the other candidates speaking up for their guys. For example, not like Shaq's going to come out in support of
Dwight Howard
, no matter how much he thinks that big men are underrated in this league. And LeBron James doesn't have an advocate because there hasn't really been a player like him in terms of overall production and ability to cross positional strengths. Plus, everyone hates him.
And that may be Rose's biggest strength in terms of his MVP candidacy. It makes everyone feel good to think of him as the MVP. The young underdog (playing in a large market alongside a considerable array of support players) putting in a stunningly good season (without much in the way of elite efficiency) while remaining humble (due in part to his terrible interview abilities and after openly campaigning for himself to start the season) and saying how loyal he is to Chicago (a large market with a history of winning where he grew up). The parentheticals there aren't meant to say that Rose isn't the MVP, I've got no issue with Rose as MVP, he's earned it every bit as much as Dwight Howard, LeBron James, or
Dirk Nowitzki
. The point is that Rose is an easy MVP to get behind. Jordan's electing to provide a sound byte in support thereof (which is rare) is proof enough of that.
And it'll probably carry some weight with the voters, especially given the tremendous respect Jordan rightfully carries with them.