Lakers travel to Miami to take on the Heat Thursday night. Here are 5 things to keep an eye out for during the battle of the hype machines.
Posted by Matt Moore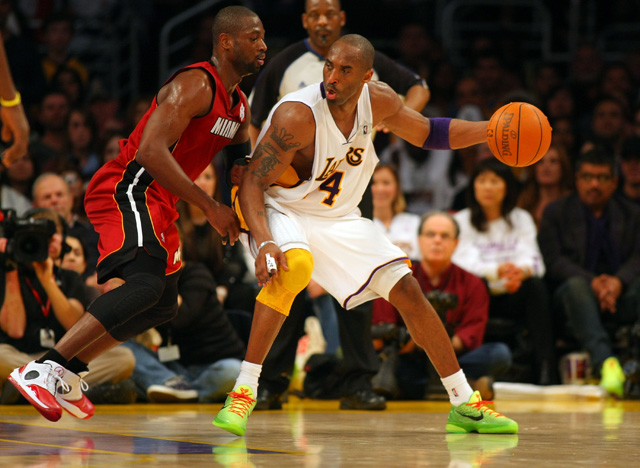 This game feels weird to look at. On the one hand, it should be a Lakers cakewalk. They're on a monstrous roll, destorying everything in their path, while the Heat are in the depths of a downright pathetic losing streak, continuously failing out of close games thanks to their own ineptitude. The Lakers have
Andrew Bynum
at the Heat's weakest position and
Kobe Bryant
,
Lamar Odom
, and
Pau Gasol
match up favorably with
Dwyane Wade
,
LeBron James
, and Pau Gasol. But the Heat won on Christmas in impressive fashion, the game is in Miami (though it's not like that's a huge homecourt advantage), and the Lakers are due to stop caring about the regular season again at any second. I'm leaning strongly towards a Lakers blowout, but that just seems too obvious. Regardless, here's five things to watch as the champs take on the hype when the Lakers meet the Heat Thursday night.
1. Chris Bosh Like A Low-Post Virgin:
Chris Bosh says he needs more touches in the low-post. We've
gone over why this is a bad idea
. But it should be mentioned that Bosh
had a lot of inside looks in the Christmas Day game
, and played very well, while Andrew Bynum had 18 ineffective minutes. So it's possible Bosh could be on to something, particularly when it comes to this game, in regards to giving him a shot in the low-post. Forgive us if we're a bit skeptical about his ability to take on a healthy Bynum and Gasol when fully engaged, especially when he's in one of the worst slumps of his career. The big question will be if the Heat actually adopt such a strategy, placing their trust in the third best of the Triad to make the plays necessary on offense to control the game. Somehow it's hard to see LeBron James or Dwyane Wade getting fewer perimeter possessions so that Bosh can go to work in the block. But at this point, is there anything not worth trying?
2. Mamba Killing:
Kobe Bryant has been on a tear, looking like, well, Kobe Bryant since the All-Star break. The whole repertoire has been in effect, including the shake-and-bake fadeaway, the drive and kick pull-up jumper, and the baseline spin floater off the glass. All the greatest hits, essentially. The question tonight will be how the Heat guard him. Typically, they sick Dywane Wade on Bryant and don't bring help, but Byrant's been hot enough that may not be possible. The best option may honestly be to put LeBron James on him and hope the Lakers don't immediately put Lamar Odom in the post versus either Wade or
Mike Miller
. Otherwise, the Heat have to be ready with help defense on Bryant, particularly at the elbow where he does a ton of damage.
3. Empty Bench Syndrome:
The Lakers are going to get production out of their bench. They just are. Lamar Odom,
Ron Artest
, even
Steve Blake
and
Matt Barnes
will get some level of production. The Heat are going to lose the bench scoring match, there's no question on that. But how much is the issue. If
Mario Chalmers
can come in and provide a decent amount of scoring, just double digits, it will help a lot. Mike Miller needs to come out of his shooting slump, but that doesn't seem likely, especially if he's guarded by either Artest, Bryant, or Lamar Odom (who will eat him alive, physically). In the first matchup,
Zydrunas Ilgauskas
did a good job of spreading the floor. He could help things Thursday by knocking down a few mid-range jumpers to get the pressure off Bosh inside and open up the lanes a bit.
4. Dynamite by Bynum:
See how I didn't go for the "Bynum-ite" joke there? That's professional, baby. Anyway, in this case it's more than just a rhyming phrase. Bynum can literally blow up the Heat defensively if he goes to work. They have no one that can guard him, in any way, shape, or form, and if he get active and gets room and trust to work, he could destroy that team deep in the post. There's no one to keep him off the offensive glass, and he's going to have great matchups to get his hooks and jumpers going. This could be a huge night for Bynum, if the Lakers decide to go to him early and often, and provided his knee is feeling up to par.
5. Desperate measures:
This has to be considered a must-win game for the Heat. It's imperative that they win this game, just to get themselves some breathing room from the media and their own fans. But that means they have to play like it. The biggest issue for the Heat this year has been playing with urgency and cohesion. They've played without energy, without passion, and without focus in the moments they've needed it most. We have no reason to suspect they'll have it Thursday night against the Lakers, but that's really theire only chance to get this game, to want it more than the Lakers. Someone on that team is going to have to step up and lead. Will anyone?