NBA commissioner David Stern responds harshly to critical comments from Orlando Magic coach Stan Van Gundy. Posted by Ben Golliver.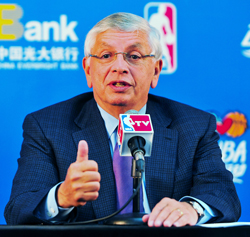 You knew this was coming.
Back on Monday
, we noted that Orlando Magic coach Stan Van Gundy was quite upset with his center
Dwight Howard
being suspended after receiving his 16th technical foul of the season, as Van Gundy believes Howard is a target of hard fouls and that the NBA referees are too quick with the whistle in handling Howard's responses. In the process, Van Gundy made a comment that he "certainly can't have an opinion because David Stern, like a lot of leaders we've seen in this world lately, don't really tolerate other people's opinions or free speech or anything." Van Gundy later clarified that he wasn't comparing Stern to any particular dictators, but the damage was done.
During an ESPN radio interview on Thursday (
audio here
), Stern shot back, and he shot back hard, implying that he was taking action against Van Gundy by speaking with his Magic superiors and that Van Gundy's frustration is borne out of his team's struggles.
Here are some of Stern's comments
via the Orlando Sentinel
.
"I'm going to engage in a private discussions at this point with his franchise," Stern said. "I actually am not going to talk to Stan Van Gundy. I'm going to talk to the ownership of the team.
"I see somebody whose team isn't performing, whose star player is suspended, who seems to be fraying.

"I would venture a guess that we're not going to be hearing from him for the rest of the season," Stern said. "I think when he stops and reads what he said, realizes what he did, he will say no more. … I have a feeling some modicum of self-restraint will cause Stan, and the team for which he works, to rein in his aberrant behavior."
Van Gundy's frustration is legitimate and has accumulated over the years, as Howard's issues with technicals are nothing new. While his criticism of Stern is factually true -- Stern has made it clear through statements and heavy fines that he does not want any public comments about his league's officiating and its policies -- it wasn't prudent and it was certain to anger the commissioner given the timing in relation to significant world affairs.
Van Gundy either popped off without thinking (a distinct possibility) or he was ready to take a stand on this battlefield and suffer whatever repercussions would come his way. I tend to lean towards the former explanation, as Van Gundy did attempt to clarify that his remarks were not meant to compare Stern to leaders in Egypt and Libya.
Stern doesn't often come across petty but his personal, direct attack on Van Gundy and the Magic was way too much, and it was absolutely beneath him as the league's commissioner. When cooler heads prevail, it seems fair to conclude that both sides will wish they could take back their most heated comments.
The worst part: the real thrust of Van Gundy's message, that Howard needs to be protected better even if he's one of the biggest and strongest players in the league, got totally lost in the shouting match.