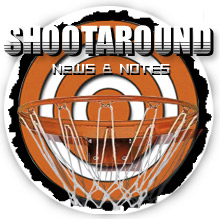 Barkley sounds off on March Madness, Heat-Lakers fallout, and Kevin Love was quite the Little Leaguer. All this and more in today's Shootaround.
Posted by Matt Moore
The
Celtics
reportedly
have an extension waiting for Doc
. Doc's waiting. His son will be a college freshman next year. Lots of things in play right now for Rivers.
Gerald Wallace
is
still really upset
about being traded from the
Bobcats
. He's probably the only person to ever feel that way.
LeBron James
is
not concerned about playing on the road
in the playoffs. Part of that may be because playing at home isn't really much of an advantage in Miami.
Mychal Thompson, whose sons played baseball with Kevin Love when Love was little,
says the double-double machine was a beast in Little League
.
Kobe Bryant
quoted Achilles in a text message to Yahoo! Sports
last night. Which makes his little shooting barrage post-game seem more than a little over-dramatic.
Charles Barkley
would like to inform some people
about some things they might be confused about.
A dissection of the
Lakers
'
confusion regarding Wade going away
from the screen.
The
Bulls
' defense isn't just improved in one area,
it's improved in nearly every one
.
Is
Rajon Rondo
having a post-Perk dropoff
?
Kris Humphries
has been pretty underrated
this season so far.
EOB's thoughts and prayers are with those affected by the earthquake in Japan and all those affected by the tsunamis around the globe.