New York Knicks forward Amar'e Stoudemire has avoided suspension after the NBA rescinded his 16th technical foul. Posted by Royce Young and Ben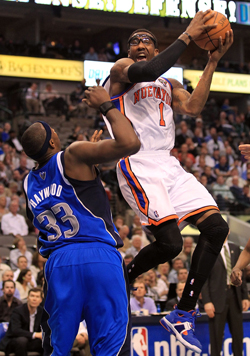 Golliver.
It was a pretty terrible technical foul to start with,
so there's no surprise that the NBA has rescinded Amar'e Stoudemire's 16th technical foul, meaning he won't be suspended for a game.
It happened early in the second quarter Thursday against the Knicks where Stoudemire sort of, kind of pushed
Brendan Haywood
. At least that's what Bennett Salvatore thought he saw and therefore whistled both Haywood and Stoudemire for technical fouls.
Most figured the foul would be taken back once the league reviewed and most was right. Stoudemire has actually had three technical fouls rescinded this season.
Stoudemire still sits with 15 though, meaning his next one will result in a one-game suspension. Chances are he picks it up eventually, but for now, he's safe.
There's no good way to manage technical fouls -- other than being chill and not getting called for them in the first place -- but there's a fair argument that the league's decision to rescind the technical might not have been in Stoudemire's best interest. The Knicks play a home-and-home against the Indiana
Pacers
-- the East's No. 8 seed -- on Sunday and Tuesday.
The Pacers just got clocked by the Minnesota
Timberwolves
and are
reportedly fighting amongst themselves
in practice. If there's a time and place to miss a game, this would seem to be it. Getting the suspension out of the way on Sunday would have taken some of the pressure off and would likely have ensured Stoudemire's availability for games against the Boston
Celtics
and Orlando
Magic
(twice) later in March.
What's more, despite a favorable early April schedule, the Knicks close their season with games against the Chicago
Bulls
and the Celtics. Should Stoudemire be unavailable for one of those games due to technicals, you can imagine the outcry given that those games will almost certainly have playoff seeding implications.
Of course, there's always the possibility that Stoudemire will hit 16 technicals, serve his suspension, and keep on racking up T's. From that vantage point, the lower his overall number, the better.