Posted by Royce Young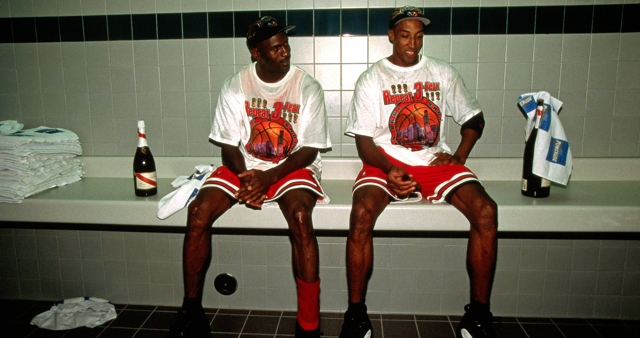 As former great players get older and less relevant to younger fans, they often get the urge to say things. Things that grab attention and most of the time, things can't can't be proven either way.
The latest example:
Scottie Pippen said on Dan Patrick's radio show
that Michael Jordan could average more than 40 points per game if he was playing today and on top of that, could score 100 in a single game. (I assume Pippen is saying that if Jordan were in his awesome 1991-92 prime he could do this, not that the current incarnation of MJ would do it.)
"The game now is so offensively driven," Pippen said. "It's so easy for an offensive player to keep his aggressiveness with the basketball player."
That's a nice thing for Pippen to say about his forming running buddy. And like I said, something that there's no way we can really know. Which is why it's fun -- and easy -- to say.
I mean, Bill Russell could say, "You know, I could grab 400 rebounds a game in today's game." Or
Magic
Johnson, "I could get 75 assists in one half in today's game." Or
Sasha Vujacic
saying, "I could average 30 a game if I wanted to."
Wait, he did say that.
I don't blame players for saying things like Pippen did because they fear we're all going to forget how good they are. And for good reason too. It was one of my favorite points from Bill Simmons'
Book of Basketball
in that as we move further away from the likes of Bird, Magic, Dr. J and Jordan, we start to marginalize their talent. We forget just how great they were. We see players like LeBron, Durant, Kobe and
Derrick Rose
and assume that those older players weren't fast enough, big enough, strong enough or good enough to hang.
And to some degree, that's true. The 1980s Bird might not be as legendary today. But that's if you took the actual 80s Larry Bird (the one with the blonde afro perm, dirty mustache and short shorts) and inserted him. If you just took Larry Bird and gave him all the bonuses of modern medicine, weight training, nutrition and whatever else, he'd be as good or better. I don't know if that point made total sense, but it did in my head. I think you get what I mean.
It's easier to respect what you're currently watching and forget what you don't see, or haven't seen in a while. I mean, how many people have already forgotten how good
Allen Iverson
was? Or just how dominant inside Shaq was? We all love the "all-time" debates, but there are truly people that think that Bob Pettit wouldn't hack it if he played today against
Dwight Howard
and
Andrew Bynum
. Who knows, I guess they could be right. But it doesn't really matter in the end.
I'm kind of getting off topic here, but that's the whole heart of what Pippen is claiming with MJ. Could Jordan score 100 in today's NBA? I'm sure he could. When you're that good, you can do lots of things. Could he average 40? Probably, because he was darn close in his time. But we won't and can't ever know.
It's easy for former players to rag on "today's game" because it's not how it was when they played. Maybe it's not as physical. Maybe it's too geared for offense. Maybe players don't play as hard. Who knows. But in 20 years, I bet we'll get a quote from
Dwyane Wade
saying LeBron could scored 70 a night in "today's game" because of the new "no defense in the paint" rule. Or something.
Don't worry Scottie. I haven't forgotten how great MJ was. You don't have to say things just to try and make me remember.