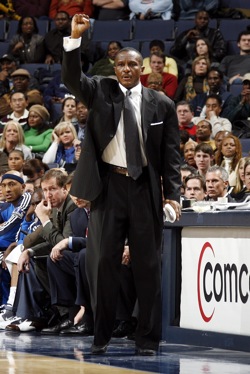 Posted by Royce Young
For a time, it sounded like the
Pacers
weren't going to fire coach Jim O'Brien because they didn't feel there was a suitable interim replacement on the bench. Then they fired O'Brien anyway and promoted Frank Vogel, one of the league's youngest
assistants
, to the head spot.
Then, after Indiana started hot under Vogel and climbed its way back into the Eastern Conference playoff picture, it looked like Vogel might have a shot to have that interim tag removed. His Pacers were running with confidence, playing well, developing and most importantly, winning.
That fun appears to be coming to an end though. Indiana has lost five straight with punctuation coming from a 26-point loss at the hands of the
Timberwolves
. Vogel, who many didn't think was ready to handle an NBA roster, might be showing his inexperience. The team is down and he doesn't appear to know how to get them back.
So the Pacers are still looking at head coaching options
with ESPN.com reporting
that former Cavalier coach Mike Brown is the leading candidate along with current Laker assistant and Pacer legend Chuck Person and Dallas Maverick assistant Dwane Casey.
Casey is the interesting one of the bunch as he's seen his name come up a lot over the years. Before there was Tom Thibodeau, it was Casey who was the hot assistant. He had a short stint commanding the sideline in Minnesota, but was dismissed halfway through the 2006-07 season. He had interviews and discussions with Philadelphia, Chicago and Atlanta, but hasn't landing that next job.
The Pacer job is an interesting one because whoever takes control there, has to battle the fact the roster probably isn't set up to win. There's some talented scattered throughout, but it's still in need of key, complementary pieces. Sometimes coaching isn't the answer.