Indiana Pacers forward Danny Granger took exception to a late basket by Toronto Raptors guard Leandro Barbosa and threatened him with physical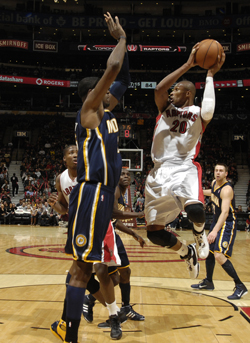 violence after the game. Posted by Ben Golliver.
Who could forget earlier this season when Atlanta
Hawks
forward
Josh Smith
got so upset with Oklahoma City
Thunder
big man
Serge Ibaka
for scoring after a game was already decided that he
called him out
for violating NBA etiquette?
That was fun, but it was just an appetizer to Friday night's main course, which featured Indiana Pacers forward Danny Granger threatening Raptors guard Leandro Barbosa with violence after he scored a late basket with Toronto's win already secure.
Barbosa claimed he was doing it as retaliation for a similar shot by Pacers point guard
Darren Collison
when the two teams played back in January, but Granger wasn't having any of that explanation
in quotes given to TheScore.com
.
"If I was on him, I would have took his head off and I would have been suspended for a game for a flagrant foul. Stuff like that will set in the back of your head the next time we play Toronto. We don't play them again but I was on him, I would have taken his neck off."
It's in the back of your mind next time you play Toronto. It's unsportsmanlike and like I said, I would have took his head off and busted his lip. That's just me, though."
Barbosa, meanwhile, stood up for himself and his team.
"You can't give respect if you don't have respect. When we went over there to play I wasn't there, but I saw on TV they made a shot and the game was over and they counted the shot so we did the same thing. They got mad, but like I said, this is NBA. You cant give respect if you don't have respect."
Here's video of both incidents back to back
via YouTube user OutsideTheNBA
.
In this case, I ride with Barbosa. I like the idea of doing whatever it takes -- short of destructive violence -- to protect an ethical or etiquette standard that you believe in, even if that means blatant, shameless retaliation. Granger comes off like a
Chris Bosh
"Fake Tough Guy" here, talking about all the things he would and should have done to a much smaller opponent, when in reality he did nothing except smack his gums.
Sadly, the next round in this back-and-forth will have to wait until next year, as the Raptors and Pacers don't square off again during the 2010-2011 NBA season.
For the record, the Raptors beat the Pacers on Firday night, 108-98.