Posted by Royce Young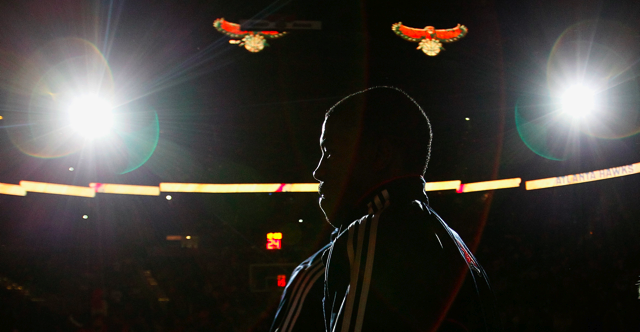 It's kind of easy to forget, but five years ago the Atlanta
Hawks
were right up there in terms of futility with the Los Angeles
Clippers
, Detroit Lions and Pittsburgh Pirates. They were
always
awful.
In 2004, they finished with 28 wins. In 2005, 13 wins. In 2006, they doubled that total ... to 26 wins. The Hawks went over a decade without a quality winning season or playoff berth. Post-Dominique, post-Highlight Factory, the Hawks just weren't relevant.
Then, things started to move for them in 2008, with a 37-win season and a surprising playoff appearance. Instead of selling at the deadline, the Hawks became buyers, targeting Sacramento's
Mike Bibby
in a trade that said Atlanta was going to try for the postseason. It worked. They were supposed to get swept by the 66-win
Celtics
. Except the young Hawks squad pushed the eventual champs to seven games.
It was a start, and a far cry from the dismal sub-30-win seasons. Really, before the Oklahoma City
Thunder
became the poster child for using youth to rebuild, the Hawks had done it, and successfully. In 2009, the Hawks won 47 games and finished fourth in the East. Last season, third with 53 wins. A roster built around
Joe Johnson
, who was slickly signed from the Phoenix
Suns
,
Josh Smith
,
Marvin Williams
and
Al Horford
, who were drafted, and
Jamal Crawford
, who was also plucked in free agency, the Hawks had finally built a winner.
Except, there's a problem. They're stuck. They don't seem to be going anywhere. They're sprinting full-speed on a treadmill. They just can't seem to move the needle.
In those three playoff appearances, the Hawks' best effort was a first-round victory over the
Heat
in 2009, after which they were swept by the Cavs. Last season, the
Magic
absolutely humiliated Atlanta in one of the most lopsided series ever.
Problems seem to start for the Hawks right around this time of year. Take Friday night. The Hawks, who are fifth in the East, rolled into Chicago as losers of three straight. All three at home. With a chance to make a statement and establish new momentum heading into April, the Hawks fell asleep at the wheel and careened off a bridge. They scored 26 points in the second half --
twenty-six!
-- en route to a 94-76 beating. It was just the latest setback in a season that's seen plenty.
General manager Rick Sund saw this coming. He knew the team wasn't going anywhere. They flirted all offseason trying to find an extra big man to help Horford and Smith inside. Talks with
Shaquille O'Neal
seemed to go on and on and on. But nothing ever happened, and Atlanta eventually settled on
Etan Thomas
. Big move, I know.
At the latest deadline, Sund saw the need to move Bibby, who was letting down the Hawks defensively at the point of attack. So he snagged veteran point guard
Kirk Hinrich
in a very good move. But that's the thing: Kirk Hinrich isn't the piece to move you over the top. He's not the one that's going to take you to the Eastern finals.
The Hawks have committed to this core long-term. Johnson got that wild $120 million extension. Horford signed a big $65 million deal. And Smith is signed through 2013. Crawford will likely walk this summer and Williams doesn't appear to be an integral part. But the Hawks have their core -- except their core is still missing the key piece. Johnson isn't capable of carrying that load. He's being paid like he is, but it's obvious the Hawks need help. Painfully obvious. Nothing said that more than the Orlando series last year.
But how do you get help when 80 percent of your payroll is tied up in three guys? The Hawks made their bed. Now they're got to sleep in it.
(Is this where I mention the Hawks whiffed on
Chris Paul
, taking instead Marvin Williams?)
It's funny, because in 2011, this Hawks franchise is in a far better place than it was five years ago. They have a young, quality group that's winning consistently. I'm sure everyone in Atlanta much prefers this incarnation over the miserable 13-win campaigns, but right now, this season is headed for the same place: failure.
Sure, they get to play a few more games in April and sell some playoff tickets and get people excited for two or three games, but these Hawks are stuck. They don't have the chops to make a run to where they want to be. At some point a rebuilding project has to progress to "built" and the excuse of being young isn't a good one anymore.