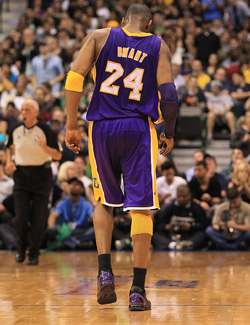 Kobe Bryant will try to work through severe injury to return for meaningless regular season game against Orlando Monday. The question is, why?
Posted by Matt Moore
Kobe Bryant thought it was all over.
When Bryant landed awkwardly on his ankle, severely spraining it in the third quarter of the
Lakers
'
96-91 win over
the Dallas
Mavericks
, he feared the worst. Bryant told reporters after the game that he feared his season might be over:
"I thought I was done, like done. I was praying that when I stood up, my foot was lined up straight," Bryant said. "I thought I dislocated it."
via
Bryant tweaks ankle, scores 16 in win over Mavs - NBA - CBSSports.com
.
But it wasn't dislocated, just severely sprained, to the size of a baseball he said after the game, but Bryant was able to walk it off and actually return to the game. He played in the fourth quarter, missing several fadeaway jumpers early in the shot-clock, again.
So here's a question:
Why is Bryant out there, pushing himself like this?
This isn't a bad thing. In actuality, Bryant's giving us what we saw we want from our superstar athletes. He's risking further injury to try and overcome pain and help his team win in the only way he knows how, taking contested jumpers. But Bryant admitted after the game the ankle was already weak and the fall, which involved no contact with another player, just forced the ankle to "go." If he's playing on a weakened ankle, and he suffered a fairly traumatic ankle tweak, why is he rushing back to the floor, especially if it's to try and go ISO against a good defender in
Shawn Marion
? It's March for crying out loud.
Bryant told reporters after the game that in regards to his status for Monday's game versus Orlando, which Phil Jackson was dubious about, that he would not be deterred.
"I'll just do what I always do: don't sleep, get treatment around the clock and I should be fine," Bryant said.
via
Kobe Bryant hurts ankle in Los Angeles Lakers' game against Dallas Mavericks - ESPN Los Angeles
.
Why is Bryant punishing himself like this? He's obviously struggling. This series of events comes less than 48 hours after his little shooting binge following the loss to the
Heat
. Thankfully for Bryant,
Andrew Bynum
and
Steve Blake
stepped up along with the Lakers' defense to help L.A. hold off the Mavericks Saturday night but in reality, none of these games are worth risking further injury with the playoffs a little over a month away. The Lakers aren't catching the
Spurs
with their 7.5 game lead in any realistic scenario. They know they can win on the road in the playoffs, and they know that health is the most important element for their championship hopes. So why is Bryant so hellbent on proving to everyone that he wants to work harder? In years prior he would have just simply done it. But now he seems to be trying to impress everyone with his dedication, whether it's staying an hour after a loss with every member of the press aware that he was shooting baskets in an empty gym, or pressing through a fairly severe injury to convince everyone he's the hardest working man in the business.
The question is how much of this comes from a desire to maintain his hold on his place in the game. Eventually, questions will be asked about why
Pau Gasol
and Andrew Bynum aren't receiveing more touches. And that will be an awkward situation with Bryant, who wants to help his teammates grow but can't let go of his own position as the franchise leader. He's wired one way, and his dedication betrays an unhealthy obsession with going beyond not only what is asked, but what might be reasonable or best for the club.
Everyone knows no one wants it more than Bryant. That's why he's Bryant. But at some point he's got to get outside the context of what is happening at this exact moment, and think about May, think about June. Maybe then Bryant will realize that he doesn't have to prove he's crazy obsessed with success and personal accomplishment. Everyone already believes him.