Los Angeles Lakers coach Phil Jackson says it's "not fair" to compare Kobe Bryant to Michael Jordan. Posted by Ben Golliver.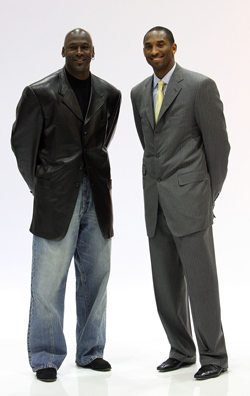 Throughout this season, we've tracked Los Angeles Lakers guard Kobe Bryant's rise up the scoring list, and last week he
moved into the No. 6 spot all-time
. Bryant is slowly creeping towards Michael Jordan, who sits in spot No. 3, and his drive for a sixth NBA title has made the comparisons to M.J. almost unavoidable.
Who better to answer the "Who's Better?" question than the man who coached them both?
In a sit down conversation with the L.A. Times
, Lakers coach, and former
Bulls
coach, Phil Jackson said that, despite Bryant's growing list of accomplishments, Jordan simply defies comparison.
"Kobe has patterned himself after Michael, and there are a lot of identical things there, but it's one thing to hope to be like him, it's another thing to be like him."
So when Jackson's next book comes out, and it will, will Jackson reveal who he thinks was best — Jordan or Bryant?

"I'm with [ESPN's] Bill Simmons on this," he says. "We have to take Michael Jordan out of the equation. Stop comparing anyone to Michael Jordan. It's just not fair. He was remarkable. Kobe's in his own sphere.

"He doesn't shoot the same percentage [.455] as Michael [.497]. He has the same characteristics as Michael, but he's not the same player. It takes nothing away from him — he's a great player in his own right."
I'm with Jackson: I don't think anyone, at this point, compares to Jordan. But his dodge of the question -- his creation of multiple spheres -- is a cop out.
Hypothetically speaking, if Bryant finishes his career No. 1 all-time on the scoring charts with eight or more rings, we're still supposed to say Jordan was better because of his field goal percentage? That's tough to swallow, and given Jackson's reverence for the league's greats, I think he'd almost certainly be singing a different tune if things played out like that.
As always, this feels like a motiviational tactic. It's reportedly Jackson's final season on the bench, and while Bryant is playing excellent ball (
despite a vicious ankle injury
), he continues to go rogue late in games, including during a recent loss to the Miami
Heat
. By bringing up field goal percentage, Jackson subtly reminds Bryant of the importance of shot selection, that perhaps a 30-foot bomb on the move during crunch time isn't the best available shot. He's prodding Bryant in the most obviously way possible: "MJ wouldn't have taken that shot."
Innately, Bryant doesn't need the extra motivation, he's as self-motivated as it gets. But a little nudge or reminder every once in awhile surely gets his blood pumping just like everyone else. Jackson wants to end this chapter on top and getting Bryant to buy all the way in to his team concept is the surest way to make that that happen. It's been a constant push-and-pull between these two for years now.