Minnesota Timberwolves president David Kahn denies coach Kurt Rambis is set to be fired after the season. Posted by Ben Golliver.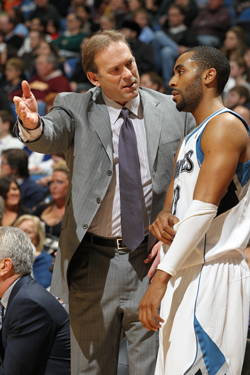 Last Friday,
CBSSports.com's Ken Berger reported
that trouble could be brewing for Timberwolves head coach Kurt Rambis, as Minnesota struggles aimlessly through another lost season.
Of far greater certainty is the status of coach Kurt Rambis, who appears to be on his way out after only two seasons. Though management won't make a final decision until the season is over, sources say there is significant push from within to make a coaching change. Atop the Timberwolves' list of potential successors is Bucks assistant Kelvin Sampson, one of the people with knowledge of the organization's thinking said. With a young roster clearly lacking in veteran leadership, some members of the Minnesota brain trust believe the team needs a more vocal, energetic coach on the sideline. Rambis is cut from the Phil Jackson cloth of letting his players police themselves, and also has been at odds with Love for long stretches. A coaching change is something Love would not oppose, sources say. Of course, perhaps Rambis would've been more vocal or energetic if he wasn't saddled with among the youngest teams and lowest payrolls in the NBA.
Over the weekend, Timberwolves president David Kahn denied the report in
a brief statement to the Pioneer Press
.
"The notion of Kelvin Sampson is completely false," Kahn said, relaying his comments through Wolves media relations director Mike Cristaldi. "That report is not true in all aspects."
As for Rambis, he sounded pretty annoyed.
"I don't comment on things I haven't read, and I never comment on things that cowards say," Rambis said before heading to the team's charter flight to Oakland. "If somebody wants to say something and attach their name to it, that's another matter. Rumors are out there all the time. Anybody can start a rumor, but if they don't attach their name to it, they're a coward."
"I only deal with things I can control," he said. "I do the best job I can every day. I don't worry about rumors and stuff like that. I didn't worry about those kind of things as a player when trade rumors came up, and I don't worry about them now."
The Star Tribune reported
that both
Kevin Love
and
Michael Beasley
vouched for their coach.
"I worked with him the whole summer and built a great relationship with him," Love said. "No, [any report of friction between the two] is completely false. ... Last year we had our differences. This year there has been nothing like that. For me to say he's not good here would be blasphemy, because this is really only his first season as coach [where] he finally got the players around him that he wanted. I can't be mad. I'm shining under his system. Why would I have a problem with him?"
"I love Kurt," forward Michael Beasley said. "I mean, Kurt, for us, is a great coach. Everybody knew this season was going to be a learning experience. I don't think you can hold [the losing] against him. I have no problem with Kurt. I don't want to change coaches."
Rumors and anonymous sources are the least of Rambis's worries, as the Timberwolves are second to last in the Western Conference, with a record of 17-51, and have so many flaws I don't know where to begin. The Timberwolves are undisciplined (sporting the
highest turnover rate
in the league), they don't play defense (ranking No. 26 out of 30 in overall efficiency) and they're not particularly potent on offense either, despite the
consistent contributions
of double-double machine Kevin Love. Many analysts blame Rambis's system for those struggles.
On top of that, I hate to continue to be the guy to break it to Minnesota:
Ricky Rubio
is not walking through that door. Sorry, he's just not. Especially not next year, given how Minnesota's season played out this year and the impending labor strife.
Add together the on-court struggles, the revolving door roster and questionable (at best) drafting, and both the coaching staff and management should rightfully be on the hot seat right now. Minnesota has reached the "Could it really be any worse if we totally cleaned house?" stage and that usually results in someone being shown the door, if only to temporarily relieve some of ownership's frustration.
Staying the course just doesn't make sense, not in an environment like this where the boat is spinning madly in circles and taking on water. The only question is how many life rafts will be needed.