The Golden State Warriors are promising incentives to season ticket holders if the team doesn't reach certain milestones. Posted by Ben Golliver.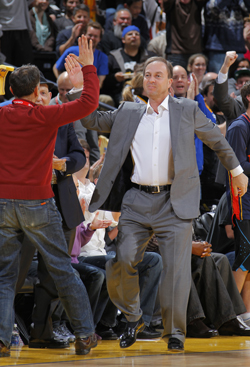 When you're a struggling lottery team year after year, you do what you have to to create a buzz.
New Golden State Warriors owners Joe Lacob and Peter Gruber are pushing the bounds of that axiom, promising incentives to season ticket holders in the event the Warriors fail to reach the playoffs next season. The Warriors have launched a website,
SignWithTheWarriors.com
, that's designed with a legal feel. The front page document reads "Herinafter contained is the first official contract between a professional sports team and its fans."
That "contract" includes the promise that the Warriors will make the playoffs next season or "ticket prices will not increase" for the following season. It also notes that if a Warrior is not selected for the 2012 NBA All-Star Game, season ticket holders will "receive an autographed All-Star-related item' and "will be entered into a drawing for an all-expenses-paid trip for two to the 2012 NBA All-Star Game in Orlando." Finally, if the team doesn't go at least 25-17 at home, the Warriors will arrange for season ticket holders to attend "an exclusive two-hour autograph event at Oracle Arena with the entire team."
The San Francisco Business Times notes
that the Golden State's new owners see these promises as part of a plan to help meet their own high expectations.
"In order to achieve the objectives outlined ... we are going to need everyone in this organization — from the basketball side to the business side — to meet the expectations that we've established," said Peter Guber, who along with Joe Lacob bought the club last year for a NBA record $450 million. "It's going to take a committed effort in all facets if we are to reward our great fans with the product they deserve."
It goes without saying that the NBA needs more innovation and accountability when it comes to its ownership groups, and after years of disarray in the bay this message and approach will likely be received with open arms from Warriors fans, even if the actual incentives aren't much to write home about.
Here, it's the thought that counts. Being a season ticket holder requires an investment of thousands of dollars and, like any big ticket item, comes with doubts and concerns that it could go bust. With this move, the Warriors are selling their fans a bit of insurance and peace of mind: buy into our vision and we'll take steps not to burn you. What consumer wouldn't appreciate that?