Portland Trail Blazers injured center Greg Oden says he's "nowhere near" being able to return to the court. Posted by Ben Golliver.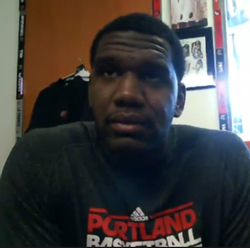 In a
video interview posted on Blazers.com
that was conducted on Monday, Portland Trail Blazers center Greg Oden, who has been rehabilitating since undergoing microfracture knee surgery in November, was asked whether he has been able to resume work on the basketball court.
"I'm nowhere near there," Oden admitted. "I mean I just started doing two-leg squats like two weeks ago. I've got like a month and a half of just doing that. Putting weight on one leg, that's all I can really do right now."
Oden's statement is the most recent and complete update on his progress since a Blazers scout said in January that Oden was
still walking with a cane
. The news comes roughly four months after he
underwent microfracture surgery
on his left knee on Nov. 19, 2010.
The No. 1 overall pick in the 2007 NBA Draft, Oden didn't appear in a game for the Blazers during the 2010-2011 NBA season. His daily rehabilitation routine is keeping him busy, however. "I can do cardio here, on the bike, on the elliptical, stuff that's not a lot of weight bearing," Oden explained. "And then I lift. That's basically what my day consists of: rehab, cardio, lift, and pool at the end of the day."
Asked if the routine was growing tiresome, Oden said that it was. "It definitely is a bummer, but I know that's what I need to do to get back out there. So I go out there every day and I do it."
In case you're interested, Oden listed Orlando
Magic
center
Dwight Howard
as the best big man in the NBA and said he's most looking forward to facing Los Angeles
Lakers
center
Andrew Bynum
, Memphis
Grizzlies
center
Marc Gasol
, Los Angeles
Clippers
forward
Blake Griffin
and Sacramento
Kings
center
DeMarcus Cousins
.
Oden, who is set to become a restricted free agent this summer, said that his goal for the next two seasons is simple: "To be healthy."