Posted by Royce Young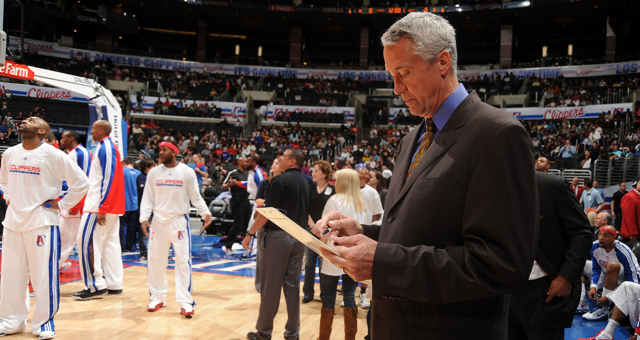 The story of former Clipper assistant and one time interim coach Kim Hughes was
highlighted in the Journal Times today,
and in that is the fact that after Hughes was diagnosed with prostrate cancer, the organization wouldn't pay for his treatment.
"I contacted the
Clippers
about medical coverage and they said the surgery wouldn't be covered," Hughes said in the story. "I said, 'Are you kidding me?' And they said if they did it for one person, they'd have to do for everybody else."
Of course this spawned a good amount of "Oh the Clippers" type of comments, even though they might not be entirely fair. (I mean, the Clippers do have a point.) But it made me think: Shouldn't the Clippers be the kind of organization that does the exact opposite of what happened here and go above an beyond? With the type of reputation the franchise has for screwing things up and doing things the wrong way, wouldn't they see this as an opportunity to make a statement the other direction?
But then of course, here's where you remember that Donald Sterling owns the franchise and he cares not for going above and beyond or the "right way".
The story doesn't end there though. Good thing, because I was depressed. In fact, it ends with some inspiration.
When Dunleavy learned the Clippers wouldn't cover the cost of Hughes' surgery, he mentioned it to his players.

Several of them, including now Milwaukee Bucks forward Corey Maggette, Chris Kaman, Elton Brand and Marko Jaric, were taken aback by the news and decided to offer their assistance.

"Kim was one of our coaches and he's a really good friend of mine, too," Maggette said. "He was in a situation where the Clippers' medical coverage wouldn't cover his surgery. I thought it was a great opportunity to help someone in need, to do something that Christ would do.

"It shows your humanity, that you care for other people and not just yourself. Kim was in a life-and-death situation."

It was indeed a dicey time for Hughes. After a biopsy was taken, he learned his prostate cancer was much worse than he believed.

The cancer had quickly spread and was on the brink of moving to other areas of his body.

Players stepped up, in a big way. The organization wouldn't cover the treatment so a couple players raised their hand. So while you can point at the Clippers and make a joke or two, the moral of the story is, you can still step up when someone else doesn't. That's what Maggette, Kaman, Brand and Jaric did for Hughes.
And by all accounts, Hughes is recovering well. Which in the end, is really all that matters.