The NBA says it advised referee Bill Spooner not to sue the Associated Press over a Twitter post. Posted By Ben Golliver.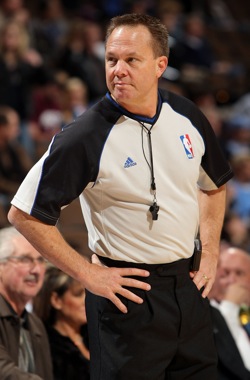 Earlier Tuesday
, we noted a story in which alleged NBA officiating impropriety, Twitter and a lawsuit all came together at once.
To sum it up: NBA referee Bill Spooner is suing an Associated Press reporter who tweeted that Spooner promised Minnesota
Timberwolves
Kurt Rambis a makeup call after making an incorrect foul call. Spooner's lawsuit comes after the NBA investigated the tweet's claim to determine whether or not Spooner actually made that promise, which would obviously be against NBA policy. The NBA's investigation revealed no wrongdoing, but the AP and its reporter are standing behind the merits of the tweet.
What wasn't clear Tuesday morning was where the NBA stood on the matter.
The USA Today reported Tuesday afternoon
that a spokesman for the league has stated that the reporter's original allegation was without merit but that the league didn't believe a lawsuit was a prudent response.
"We investigated the content of the tweet when it appeared, found it to be without substance, and informed Mr. Spooner that we considered the matter closed," NBA spokesman Tim Frank said in a statement. "We subsequently advised Mr. Spooner's lawyer that we did not think suing a journalist over an incorrect tweet would be productive. Nevertheless, Mr. Spooner and his lawyer decided to commence this litigation and any future inquiries should be directed to Mr. Spooner's lawyer."
Does a lawsuit seem a bit extreme at first glance? Sure.
But if you've ever met a professional referee you know that they hold their personal honor and integrity in the highest regard. Letting an established member of the media question that honor and integrity so specifically and publically without a response is not something many officials, in any of America's professional sports, would be able to do. At least not without a lot of mumbled cursing under their breath.
Of course, the shadow of disgraced referee Tim Donaghy is cast all over this mess. In fact,
a PDF of Spooner's lawsuit
shows that the first five "facts" in the statement of facts all reference Donaghy and how his conviction for influencing games in which he worked brought "scandal" to his colleagues. So this lawsuit isn't just about the writer's allegation, it's about the timing and sensitivity with regard to the allegation.
And that's why, I think, Spooner didn't follow the league's advice. Sure, the league would prefer that the incident, once investigated, be put out of mind and, especially, out of the headlines. For the NBA, as long as Spooner did his job, that's all that really matters. Writers get things wrong about the league every single day. But for Spooner personally, this is clearly much bigger. This is about his clearing his reputation and taking a stand. As crazy as it sounds, I kind of admire him for it.