Miami Heat forward LeBron James picks The Ohio State University to win the NCAA tournament. Posted by Ben Golliver.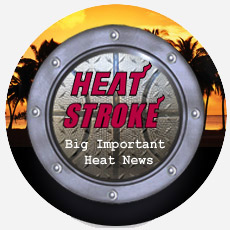 File this one under "Duh." Miami Heat forward LeBron James, who hails from Ohio, believes that the Ohio State Buckeyes will win the 2011 NCAA tournament,
according to the Associated Press
.
"We've got the No. 1 overall seed in the whole thing," James said. "So I'm looking forward to it."
James is a long-time, ardent supporter of the Buckeyes, so much so that the school's
Nike jerseys bear James' logo
.
The Buckeyes are led by freshman big man Jared Sullinger - a sure-fire lottery pick should he decide to turn pro - and they kick off tournament play on Friday against the winner of a play-in game between University of Texas-San Antonio and Alabama State.
Ironically, as the No. 1 seed in the East region, the Buckeyes will play their first two games in Cleveland, the city that James abandoned last summer when he decided not to re-sign with the
Cavaliers
so that he could take his talent to South Beach and team up with
Dwyane Wade
and
Chris Bosh
.
James has maintained that his decision was not meant as a slight on the people of Ohio, and his public support of the Buckeyes could be seen as a smart, honest attempt to repair a bridge that he napalmed. Whether years of continued support for Ohio State will help him regain fans in the Buckeye State remains an open question, but even the most solidly anti-LeBron faction can't begrudge him his right to cheer for his childhood team. With that said, should the Buckeyes crash and burn under the weight of great expectations, just like James' Heat, the line of haters will rightfully be a mile long. That's just life at the top.