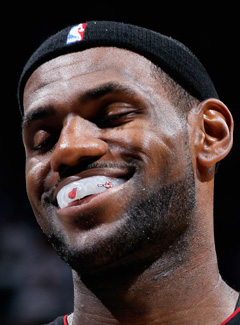 LeBron James picks Ohio State... and Duke in his NCAA brackets.
Posted by Matt Moore
LeBron James did something outrageously duplicitous Wednesday, which will likely spur fans of his in Ohio in light of a shocking betrayal. No, not that one. Another one. A new one. Kind of.
Remember how we told you that LeBron
picked Ohio State
in the NCAA tournament? Well, on Wednesday,
LeBron revealed his bracket on his website
, and um, well, er...
He picked Duke
.
Specifically, he picked Duke over Ohio State in the Final Four, along with Lousville over Pitt, with Duke toppling Pittsburgh in the Final. Typical. He picks an east coast team over his home-state Buckeyes. When asked about the pick Wednesday, LeBron
told the South Florida Sun-Sentinel
"I got two brackets. My heart wants Ohio State, of course."
Perhaps the bigger revelation here is that LeBron is one of those annoying dudes who fills out more than one bracket, covering his bases while still trying to act bold about his favorite team. If that's his favorite team this week. Those people are so annoying, constantly working out multiple entries with different picks in the hopes of scamming home the prize money. What kind of a person does that?
This kind of person, that's who. That's right. I love the multiple brackets. It's like playing some sort of choose-your-own-adventure game, only you get to lose $40 instead of just $10 because you managed to not pick the one 12-5 upset. It's a brilliant game of contingencies and why wouldn't you want to increase your odds by increasing your own number of entries? After all, you're increasing the prize pool at the same time. Screw you for judging us. LeBron is a saint to speak out for us, the multiple-bracket-enterers.
You're going to throw things, now, aren't you?