The Sacramento Kings have reportedly reserved new franchises names in case they relocate. Posted by Ben Golliver.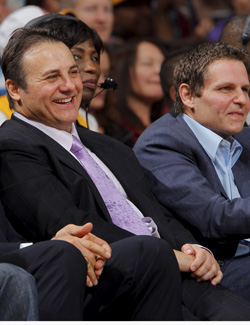 It's been nothing but bad news for fans of the Sacramento Kings lately, as all signs point to the franchise relocating to Anaheim.
Wednesday's news hit like a gut punch:
News10.net reported
that a lawyer representing the team's ownership group, the Maloof family, has filed the necessary paperwork to reserve multiple names for the franchise in the event it relocates to Southern California.
The United States Patent and Trademark Office received an application on March 3 by a Nevada corporation seeking the exclusive right to use the name "Los Angeles Royals."
Another application filed the same day reserves the name "Anaheim Royals." The city of Anaheim, which owns the Honda Center, has reportedly insisted that any team playing there carry the city's name.

The web domains losangelesroyals.com and anaheimroyals.com have also been registered within the past three weeks.
The
Sacramento Bee
also reported the filings
.
This is a common, and necessary, legal step during a relocation effort, and it's not usually undertaken unless the ownership group is serious about a potential move.
During the former Seattle Supersonics' transition to Oklahoma City,
website domain registration information was cited
in the first reports of the franchise's name.
It's worth noting that the "Kings" team name is already taken in Southern California because the National Hockey League's L.A. Kings have been in existence since the 1960s. As for the Royals moniker, it dates back to the days before the Kings franchise settled in Sacramento, as the team had previously been called the Rochester Royals, Cincinnati Royals and Kansas City Kings.
In other words, this just got even more serious, folks. A report regarding the Kings' applications for the new names
drew nearly 200 comments
in less than four hours on Kings blog SacTownRoyalty.com. As many fans noted, the Kings recently played in throwback jerseys that bore the name "Royals." Brutal.