Utah Jazz center Mehmet Okur has been ruled out for the season with a back injury. Posted by Ben Golliver.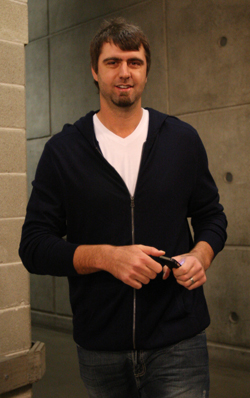 When Utah Jazz center Mehmet Okur looks back on the 2010-2011 NBA season, he will view likely it as a lost year. Okur began the season rehabilitating from a ruptured Achilles suffered last April, and while he made it back to the court briefly, he strained his back in January.
The Jazz announced on Wednesday
that the lower back strain had reached the point where it was in Okur's best interest to shut it down for the remainder of the season.
Following a complete and in-depth evaluation with Mehmet Okur, Jazz team orthopedist Dr. Lyle Mason, Utah Jazz medical staff and back rehabilitation specialist Dr. Graham Hill, Jazz general manager Kevin O'Connor announced today that it has been determined to be in Okur's best interest to discontinue any further attempts to return to play this season.
"His efforts and determination to return from his combined left Achilles' surgery and back issues may have put undue stress on his body," said O'Connor. "We feel that a concentrated effort to return his back and Achilles' conditions to acceptable levels is our main concern. Mehmet is expected to be at full speed for the start of the 2011-12 Jazz training camp."
Things could be worse for Okur, 31, as he's under contract through the end of next season and set to earn $10.9 million in 2011-2012. He'll have the entire summer and any work stoppage to get his body right before making a run at his next payday.
On the season, Okur played 13 games and averaged 4.9 points and 2.3 rebounds in 12.9 minutes per game. In his absence, the always steady Jazz have imploded, as head coach Jerry Sloan resigned, franchise point guard
Deron Williams
was traded to the New Jersey
Nets
and the team is currently on the outside of the playoff picture looking in. If the Jazz don't make a late-season push, they will miss the playoffs for the first time since 2005-2006.