Philadelphia 76ers forward Elton Brandon calls Jalen Rose's comments about Duke "ignorant". Posted by Ben Golliver.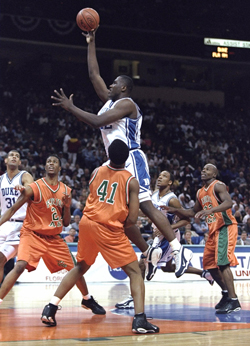 As noted on Wednesday
, Jalen Rose and his former University of Michigan teammates made some disparaging comments about Duke University and its African-American plays in a recent documentary about the Fab 5. Rose, who was speaking about his feelings at the time he was in college, referred to
Grant Hill
and Duke's other black players as "Uncle Toms" and Rose's teammate, Jimmy King, called Hill a "bitch."
Hill
responded in a New York Times editorial
saying that the comments were "sad and somewhat pathetic."
Hill's fellow former Dukie,
Elton Brand
of the Philadelphia 76ers, also responded on Wednesday,
telling Philly.com
that he thought Rose's comments were "ignorant."
"You know, I just know that it sounded kind of ignorant, but at that time he's 17 years old, that's how a lot of young adults are. I know people from where I was from felt the same way, you know? But I knew it wasn't true and guys using those words are kind of harsh: sellout or Uncle Tom. Just because their parents stay together or worked hard? That doesn't make sense."
"It was a difference in cultures. Duke was a prestigious school and Michigan, well it's pretty academically sound itself, so, you know what I mean? But I think that was just the rivalry, he might have said that on the court to those guys and he definitely felt that way and if that's his opinion, then that's how he felt."

CBSSports.com's Ken Berger pointed out
nicely that the one failing of Hill's editorial was to distinguish between Rose's thoughts as a 17-year-old kid and Rose's comments as an adult. Indeed, Rose
took to Twitter
on Wednesday to write, "For those MOANING about how something or someone was portrayed in the doc note that it was FRAMED from 1991-1993 not 2011, quit crying."
Unlike Hill's editorial, Brand's comments show that he understands that Rose was speaking about the past, not the present. That's certainly helpful in bridging what has become a contentious debate when it probably shouldn't have been that big of a deal.