Posted by Royce Young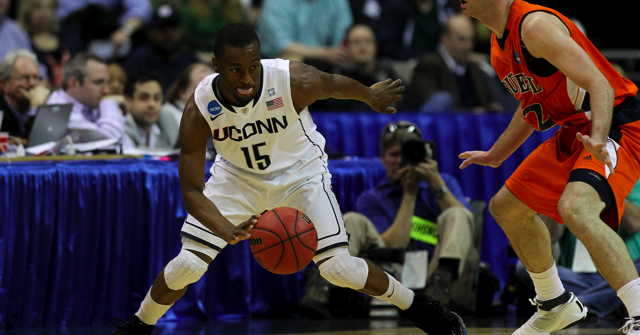 How did some of the NBA's top prospects do on the opening day with scouts eying them from every angle? Here's a look at four:
Jimmer Fredette, BYU: 32 points on 10-25 shooting
The question about Fredette's post-college career isn't about his offense. That's good, always. So with an eye to the other end Thursday night, how'd he do?
So-so.
I've watched BYU play seven or eight times this season and I haven't seen Fredette work as hard on the defensive end as he did Thursday against Wofford. The BYU defensive system doesn't call for great individual man-to-man coverage, but I saw Fredette actually closing and contesting on shooters multiple times. The thing about defense is that often times, it's not all about your size, speed and length. A lot of the time, it's about how hard you work. Are you committed to that end or are you saving it?
Fredette appeared relatively committed, at least compared to past efforts. He's going to score in any situation because that's what he does. As the tournament goes on, keeping an eye toward the end where Fredette hasn't built his reputation is key when talking about his next level success.
Kemba Walker, Connecticut: 18 points, 12 assists, eight rebounds
Competition is key in keeping perspective. The Huskies basically dominated an overmatched opponent. But what was impressive about Walker's effort is how he kept his head and never tried to take over, despite what he did in the Big East tournament.
The inclination for any great player is to try and dominate everything offensively. But Walker, who is a bit of a tweener in terms of the NBA, showed off his all-around game in the opening round. He finished with 12 assists, hit the boards and scored 18 on only 11 shots. He picked spots to do damage.
Walker has the quicks and with an above average jumper, will be a pretty good pro. But it's about where he fits. Is he a scoring 2 or a distributing point guard? Or a combo like
Russell Westbrook
or Monta Ellis? I think he can tilt more towards an Ellis type of player and that's likely where most teams will try and stick him and Thursday, he showed he's capable of settling in and owning a game without shooting 18 or 20 times.
Patric Young, Florida: Six points, six rebounds in 13 minutes
Not bad for the Florida frosh, but he's more about upside. Honestly, not a ton to take away from this effort. It was an overmatched opponent and the Gators jumped on them early and often. Young looked comfortable, but he's still so incredibly unpolished offensively.
A lot of people see some
Ekpe Udoh
in him. He's long, athletic and has an NBA body. He's the type of player than can see his stock jump if he can put up some big numbers in the upcoming rounds.
Jon Leuer, Wisconsin: 22 points on 7-12 shooting, seven rebounds
Maybe the most impressive showcase came from Wisconsin's lanky forward. He's so incredibly consistent and his offensive game is polished. He scores inside and out and all of that was on display in Wisconsin's dominant win over Belmont.
Right now, Leuer is projected to go somewhere in the late first or early second round, but that's mainly because he hasn't caught a lot of eyes. He's not flashy. But he's one of the nation's most consistent scorers and he does it oh so efficiently. He needs some bulk, but he's off to a strong start in the tournament. He's the type of player that can win over some scouts with a couple more strong efforts.